Double Indemnity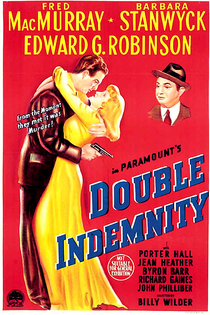 DOUBLE INDEMNITY (PG)
D: Billy Wilder
Paramount (Joseph Sistrom)
W: Raymond Chandler & Billy Wilder [based on the novel by James M. Cain]
DP: John Seitz
PD: Hans Dreier & Hal Pereira
Fred MacMurray (Walter Neff), Barbara Stanwyck (Phyllis Deitrichson), Edward G. Robinson (Barton Keyes), Porter Hall (Mr. Jackson), Jean Heather (Lola Dietrichson), Tom Powers (Mr. Dietrichson), Gig Young (Nino Zachette)
Double Indemnity is one of the definitive film noir's of the 1940's. Fred MacMurray plays insurance salesman Walter Neff, who conspires with the glamorous wife of a client to commit fraud by murdering the husband and collecting on the policy.
Billy Wilder & Raymond Chandler expertly capture the morally duplicitous characters with the script and Barbara Stanwyck portrays the archetypal femme fatale who has become imitated in hundreds of films since.
A true classic of cinema's golden age.
10/10