Donnie Darko / S. Darko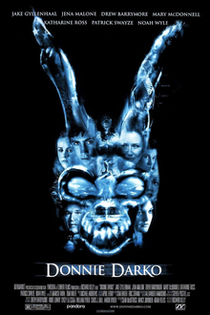 DONNIE DARKO (15)
D: Richard Kelly
Metrodome/Pandora/Flower (Sean McKittrick, Nancy Juvenon & Adam Fields)
W: Richard Kelly
DP: Steven Poster
Ed: Sam Bauer & Eric Strand
Jake Gyllenhaal (Donnie Darko), Jena Malone (Gretchen Ross), Drew Barrymore (Karen Pomeroy), Maggie Gyllenhaal (Elizabeth Darko), Mary McDonnell (Rose Darko), Holmes Osborne (Eddie Darko), Katherine Ross (Dr. Lilian Thurman), Patrick Swayze (Jim Cunningham), Noah Wyle (Dr. Monnitoff), James Duval (Frank)
Donnie Darko is a refreshingly original debut project from independent filmmaker Richard Kelly.
Set in the late 1980's, a troubled teenage boy with psychological problems is haunted by a soothsaying giant rabbit who tells Donnie that the world will be coming to an end, leaving the high school student piecing together the ambiguous messages he receives in his narcoleptic state to prevent the omen from happening.
The lurid story appears to be going nowhere in particular until the final act ties everything up with a unique and brilliant twist, settling on a profound final scene which will stick with you long after the credits roll.
The film is packed with clever references and mis-en-scene and lead actor Jake Gyllenhaal gives a brilliant breakthrough performance as the title character.
The film only received a limited release in 2001, but cult status helped it achieve the bigger distribution that it deserved. 
Amongst the best films of the decade.
9/10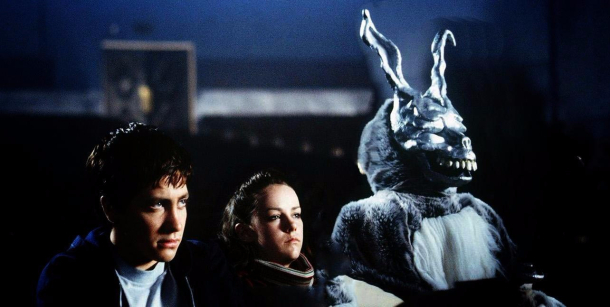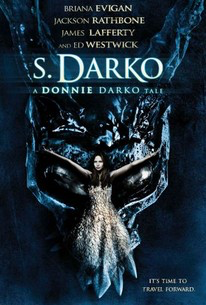 S. DARKO: A DONNIE DARKO TALE (15)
20th Century Fox/Silver Nitrate (Adam Fields & Ash R. Shah)
W: Nathan Atkins [based on characters created by Richard Kelly]
Daveigh Chase (Samantha Darko), Briana Evigan (Corey Corn), Ed Westwick (Randy Holt), James Lafferty (Justin Sparrow)
This 'sequel' to 2001 cult favourite Donnie Darko (qv) borrows some of the same plotlines from the original film and chucks in some religious parables before it just becomes a load of garbled nonsense.
In all honesty, this is a film which should never have been made, but it does answer the question from the first film of how exactly one can suck a fuck.
1/10