The Diving Bell & The Butterfly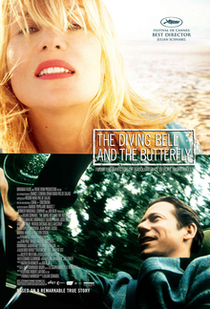 THE DIVING BELL & THE BUTTERFLY (LE SCAPHANDRE ET LE PAPILLON) (12)     
D: Julian Schnabel
Pathé (Kathleen Kennedy & Jon Kilik)
W: Ronald Harwood [based on the book by Jean-Dominique Bauby]
DP: Janusz Kaminski
Ed: Juliette Welfling
Mathieu Amalric (Jean-Dominique Bauby), Emmanuelle Seigner (Celine Desmoulins), Marie-Josée Croze (Henriette Durand), Anne Consigny (Claude Mendibil), Patrick Chesnais (Dr. Lepage)
Based on one of the best books I've read in recent years, The Diving Bell & The Butterfly is an excellent adaptation of a story that I thought would struggle to make transition to the silver screen. 
It's the story of fashion journalist Jean-Dominique Bauby, who awakens from a coma paralysed from head-to-toe and only able to move his left eyelid. With the help of a speech therapist, he uses his left eye as his only ways of communication and uses this unique method to dictate his biography (the book that this movie is based on)
Brilliantly directed and photographed mostly from a first person perspective, it's a sombre and dramatic story of a man trapped inside a shell, unable to escape.
Fantastic performances from the cast. A classic of French cinema and a beautiful, touching film. Try and read the book first.
9/10