The Discreet Charm of the Bourgeoisie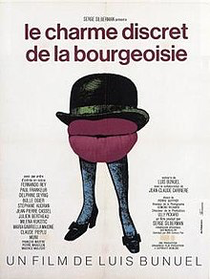 THE DISCREET CHARM OF THE BOURGEOISIE (LE CHARME DISCRET DE LA BOURGEOISIE) (15)
D: Luis Buñuel
Greenwich (Serge Silberman)
France/Spain/Italy 🇫🇷 🇪🇸 🇮🇹 1972
W: Luis Buñuel & Jean-Claude Carriere
Fernando Rey (Don Raphael), Delphine Seyrig (Simone Thevenot), Stephane Audran (Alice Senechal), Jean-Pierre Cassel (Henri Senechal)
The Discreet Charm Of The Bourgeoisie is a film without a plot, but anyone familiar with Luis Buñuel's work knows that this isn't detrimental to the entertainment or artistic value.
This surrealist comedy sees a group of upper class and their efforts to enjoy a dinner together constantly interrupted by a string of increasingly bizarre scenarios.
The performances are all wonderful and the colourful composition makes it a pleasure to watch, but the lack of a formal narrative may frustrate some viewers. It will have its fans amongst world cinema aficionados though.
7/10