Dirty Rotten Scoundrels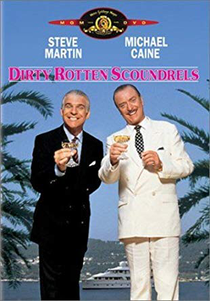 DIRTY ROTTEN SCOUNDRELS (PG)
Rank/Orion (Bernard Williams)
W: Dale Launer [based on the screenplay "Bedtime Story" by Stanley Shapiro & Paul Henning]
Ed: Stephen A. Rotter & William Scharf         
Michael Caine (Lawrence Jamieson), Steve Martin (Freddy Benson), Glenne Headly (Janet Colgate), Anton Rodgers (Inspector Andre), Barbara Harris (Fanny Eubanks), Ian McDiarmid (Arthur)
Steve Martin & Michael Caine play Freddy Benson and Lawrence Jamieson, two confidence tricksters on the French Riviera, one for small stakes whilst the other lives in a luxurious mansion. 
At first, Lawrence agrees to help Freddy spruce up his routine but when it becomes apparent that the Riviera isn't big enough for the both of them, they wager a "loser leaves town" bet over who can obtain the fortune of a naïve American soap heiress.
Directed by Frank Oz, Dirty Rotten Scoundrels is arguably Steve Martin's funniest movie, featuring some absolutely hilarious scenes of the two con men trying to outfox each other and a possible scene-stealing performance from Glenne Headly as the woman whose fortune both men are feuding for.
The film is a remake of the sprightly 1964 comedy film 'Bedtime Story', starring David Niven & Marlon Brando in the leads.
8/10