Die Hard (film series)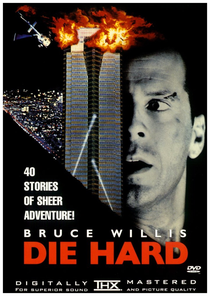 DIE HARD (18)
D: John McTiernan
20th Century Fox (Lawrence Gordon & Joel Silver)
W: Jeb Stuart & Steven E. de Souza [based on the novel 'Nothing Lasts Forever' by Roderick Thorp]
Ed: Frank J. Urioste & John F. Link
Bruce Willis (John McClane), Bonnie Bedelia (Holly Gennaro McClane), Reginald Veljohnson (Sgt. Al Powell), Paul Gleason (Dwayne T. Johnson), Alan Rickman (Hans Gruber), De'voreaux White (Argyle), William Atherton (Thornburg), Hart Bochner (Ellis), James Shigeta (Takagi), Alexander Godunov (Karl)
The definitive action movie of the 1980's, creating an entire genre of copycats pitting a lone hero against a group of bad guys in a sole location.
Bruce Willis stepped from TV sitcom star into tough guy roles with his role as NYPD cop John McClane, visiting his family for the Christmas holidays and finding the odds stacked against him when terrorists strike her high-rise office complex. McClane single-handedly takes on the bad guys as he runs around the building barefoot, picking them off one-by-one, even when the police, FBI and press outside the building hinder his efforts by allowing his real identity to be leaked, putting his wife in jeopardy.
For an action movie, all the performances are surprisingly very well acted, especially Alan Rickman as the terrorist leader- setting up a cliche that, henceforth, all bad guys will be played by a British actor.
Packed with action, suspense, thrills and realistic drama, Die Hard set a benchmark in the genre which is often imitated, but never bettered.
10/10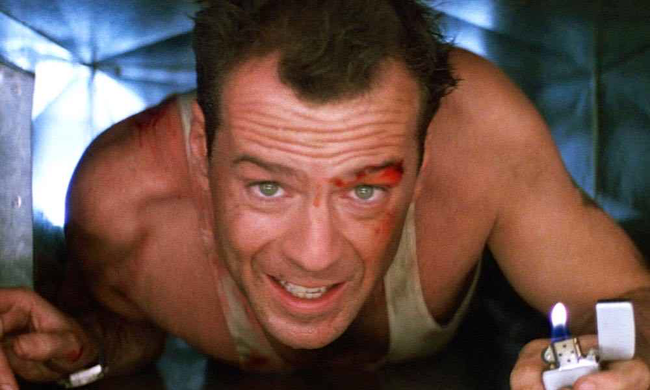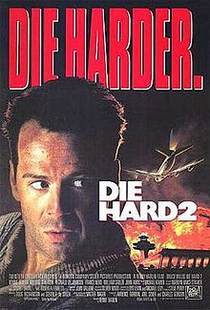 DIE HARD 2: DIE HARDER (18)
20th Century Fox (Lawrence Gordon, Charles Gordon & Joel Silver)
W: Steven E. de Souza & Doug Richardson [based on the novel '58 Minutes' by Walter Wager]
Ed: Stuart Baird & Robert A. Ferretti
Bruce Willis (Lt. John McClane), Bonnie Bedelia (Holly Gennero- McClane), William Sadler (Col. Stuart), Franco Nero (Gen. Ramon Esperanza), Dennis Franz (Capt. Carmine Lorenzo), William Atherton (Richard Thornburg), Art Evans (Leslie Barnes), Fred Dalton Thompson (Ed Trudeau), Reginald Veljohnson (Sgt. Al Powell)
The first Die Hard movie saw LAPD cop John McClane running around an office complex in trousers and a vest picking off bad guys one by one on Christmas Eve.
This time, he gets to wear a bunch of questionable sweaters as he attempts to thwart terrorists who have locked down an airport, threatening to crash planes into the runways unless their demands are met.
Adapted from the novel '58 Minutes' which had nothing to do with the novel that inspired the original Die Hard, this sequel does feel like too many square pegs were placed in round holes. There are some entertaining moments of action, peppered with good visual effects and spicy one-liners, but it does suffer massively in comparison with the original film.

6/10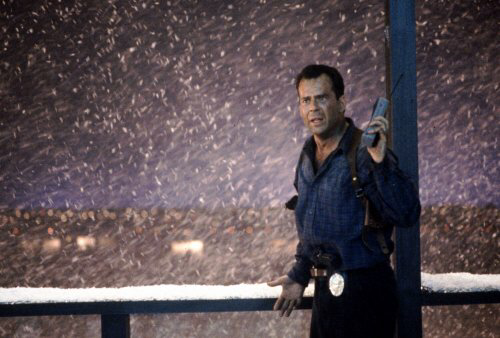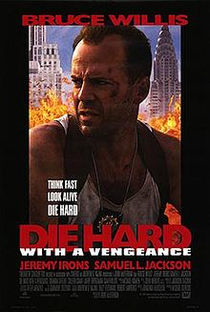 DIE HARD: WITH A VENGEANCE (15)
20th Century Fox/Buena Vista/Cinergi (John McTiernan & Michael Tadross)
Bruce Willis (Lt. John McClane), Samuel L. Jackson (Zeus Carver), Jeremy Irons (Simon Gruber), Graham Greene (Det. Joe Lambert), Colleen Camp (Det. Connie Kowalski)
The third Die Hard film changes the formula into something which was probably originally conceived for the Lethal Weapon series of movies (the shooting script was originally titled Simon Says).
John McClane is now separated from his wife and on suspension from the NYPD, but brought back into duty when a terrorist summons him to fulfil a number of tasks, mostly for his own amusement, but failure to complete them will result in a bomb detonating somewhere in New York City.
McClane also gets a companion in this movie, as pugnacious Harlem shop owner Zeus (Samuel L. Jackson) gets sucked into the chaos.
It turns out that the terrorist behind the games and bombings is none other than the brother of the bad guy from the first film, making this none other than a plot of revenge and robbery when a Wall Street gold vault is targeted amidst the wild goose chase to find bombs elsewhere.
Despite a refreshing change to the formula of the previous two films, it just doesn't feel like a Die Hard film, mostly due to the fact that McClane isn't alone in his stand against the bad guys. 
Entertaining, but nothing more.
6/10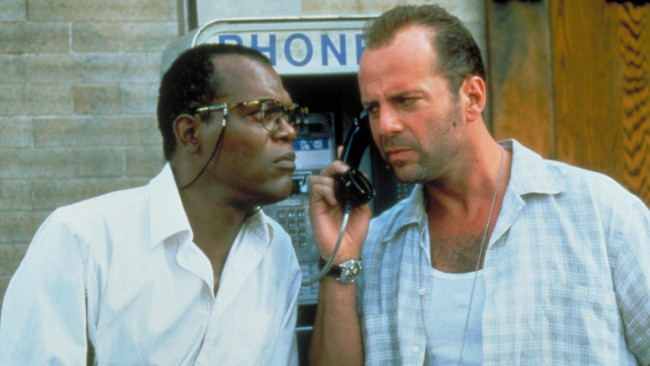 DIE HARD 4.0 (aka LIVE FREE OR DIE HARD) (15)
20th Century Fox/Dune (Michael Fottrell)
W: Mark Bomback [based on the article "A Farewell To Arms" by John Carlin]
Bruce Willis (Det. John McClane), Justin Long (Matt Farrell), Timothy Olyphant (Thomas Gabriel), Cliff Curtis (Miguel Bowman), Maggie Q (Mai Linh), Mary Elizabeth Winstead (Lucy Gennero-McClane), Kevin Smith (Frederick 'Warlock' Kaludis)
Very little is left from the original movie except the character of John McClane, now divorced and having a bad relationship with his kids too. Nevermind, there's still a group of terrorists to take on single-handedly.
The terrorists in this 3rd sequel are cyber-criminals, holding America to ransom as they hack into various government resources to gain control of power, telecommunications and the airwaves. McClane chaperones a software expert who contributed towards the cyber-crime to Washington DC but is hunted all the way by the terrorists who are tying up all loose ends.
Despite completely changing the formula from the first two films and not really being a "Die Hard movie", this is a decent standalone action movie. The plot may verge on the ludicrous side and it may ripoff action scenes from other movies, but it's still a thoroughly entertaining watch with good visual effects and some cynical humour.
The main bad guy is a bit of a pansy, but I suppose that's part of the point.
The Die Hard series continued with A Good Day To Die Hard (qv)
6/10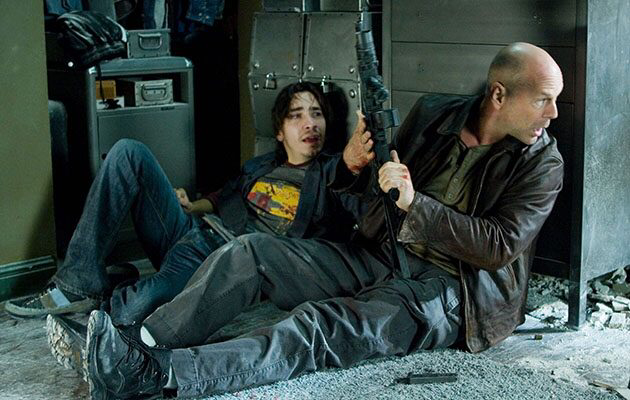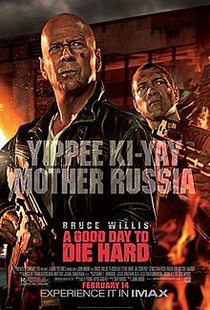 A GOOD DAY TO DIE HARD (12)
20th Century Fox (Alex Young & Wyck Godfrey)
Bruce Willis (John McClane), Jai Courtney (Jack McClane), Sebastian Koch (Yuri Komarov), Cole Hauser (Mike Collins), Yuliya Snigir (Irina Komarova)
Actually, that's mean. Hudson Hawk wasn't as bad as this. 
The fifth instalment of the Die Hard franchise is a perfect lesson in flogging a dead horse. This movie has as much to do with John McClane & the first four movies as The Wizard Of Oz or Bambi does.
Here's a rundown of the films so far... 
Die Hard- Bruce runs around an office building in a vest, blowing shit up to stop some terrorists
Die Hard 2- Bruce runs around an airport terminal in a range of sweaters, blowing shit up to stop some terrorists.     
Die Hard 3- The vest makes a comeback & Bruce runs around NYC with a script clearly written for the Lethal Weapon movies, blowing shit up to stop some terrorists.
Die Hard 4- Bruce & geek companion run around Washington, blowing shit up to stop some cyber-terrorists
Die Hard 5- Bruce runs around Moscow, blowing shit up and acting like a xenophobic arsehole because he wants to speak to his son.
This is amongst Batman & Robin and Superman IV: The Quest For Peace as one of the worst sequels ever made. Avoid!
2/10