Detroit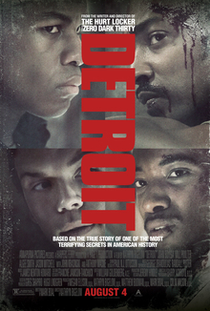 DETROIT (15)
D: Kathryn Bigelow
Annapurna/First Light (Kathryn Bigelow, Mark Boal, Matthew Budman, Megan Ellison & Colin Wilson)
USA 🇺🇸 2017
143 mins
Drama/Crime
W: Mark Boal
DP: Barry Ackroyd
Ed: William Goldenberg
Mus: James Newton Howard
John Boyega (Melvin Dismukes), Will Poulter (Philip Krauss), Algee Smith (Larry Reed), Jacob Latimore (Fred Temple), Jason Mitchell (Carl Cooper), Hannah Murray (Julie Ann), Kaitlyn Dever (Karen), Anthony Mackie (Greene)
Set during the 1967 Detroit riots, Kathryn Bigelow's crime drama focuses mostly on events before, during and after the Algiers Motel Incident, where three black teenagers were shot dead by police officers in what was alleged to be racially-motivated brutality.
With the truth behind the events sketchy, the film pieces the blanks together with realistic conviction, but the film also seems willing to stoke a fire during a time when racial tension in America is incredibly fractious, especially with an ending where no justice is served to those who should have been found guilty.
The ensemble cast all do a great job, particularly John Boyega, Algee Smith & Will Poulter, and Kathryn Bigelow's direction is gripping throughout. Surprisingly, the film was a flop during its cinema run, despite glowing reviews from critics. Perhaps its audience is still waiting to discover it.
7/10