Despicable Me (film series)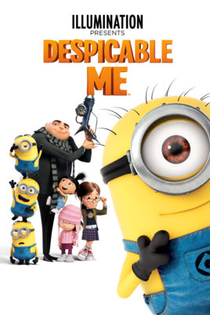 DESPICABLE ME (PG)
D: Pierre Coffin & Chris Renaud
Universal/Illumination (Chris Meledandri, John Cohen & Janet Healy)
W: Cinco Paul & Ken Daurio
Mus: Heitor Pereira; Pharrell Williams
voices of: Steve Carell (Gru), Jason Segel (Vector), Russell Brand (Dr. Nefario), Kristin Wiig (Miss Hattie), Miranda Cosgrove (Margo), Dana Gaier (Edith), Elsie Fisher (Agnes)
While not as polished as Pixar animated movies, this is still decent entertainment for the family, with a good story about a super villain, Gru, and his 'minions' who hatch a nefarious plan to steal the moon.
To help Gru's plans to come into fruition, he must adopt three orphans girls, who at first are simply part of his evil plans but after a while he develops a paternal instinct and begins to start caring for them.
It's all quite cutesy & sweet, but there are good moments of humour, most of which comes from the idiotic minions.
I compared this to Pixar's The Incredibles, though as I said above, the animation isn't quite as meticulous as Pixar's work, although it will be just as appealing to youngsters.
7/10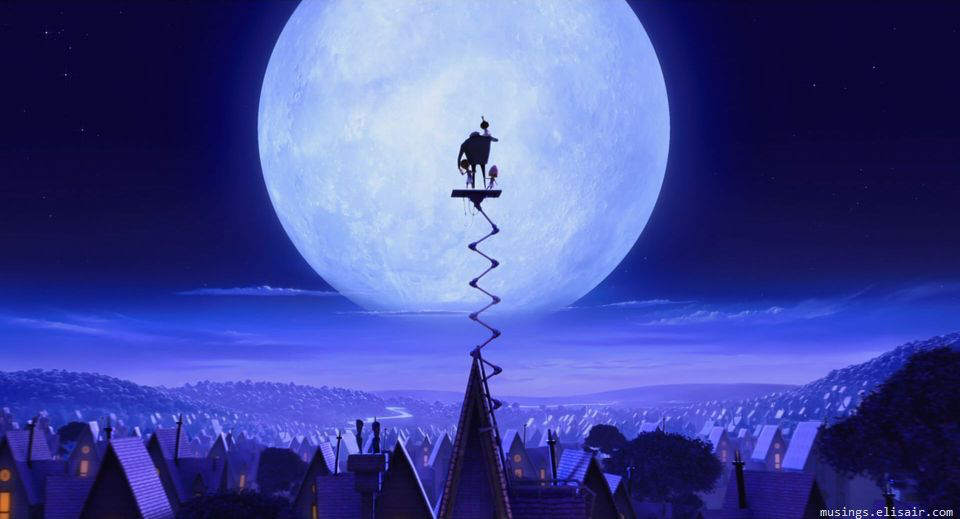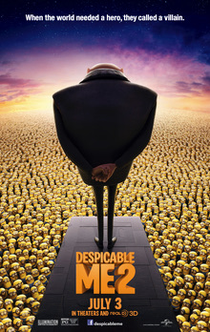 DESPICABLE ME 2 (PG)
D: Pierre Coffin & Chris Renaud
Universal/Illumination (Chris Meledandri & Janet Healy)
W: Cinco Paul & Ken Daurio
Mus: Heitor Pereira; Pharrell Williams
voices of: Steve Carell (Gru), Kristin Wiig (Lucy Wilde), Benjamin Bratt (El Macho), Miranda Cosgrove (Margo), Elsie Fisher (Agnes), Dana Gaier (Edith), Russell Brand (Dr. Nefario)
The overall cuteness of the first movie has gone but this sequel is every bit as entertaining.
Gru has shed his bad guy persona in order to be the father of the three orphan girls from the first movie but he still has a huge entourage of minions. 
Meanwhile, an unknown villain is plotting a nefarious plan so Gru is hired by a secret organisation to 'think like a villain' in order to catch their man at large.
The animation is very well done and this is entertaining for both kids and adults, with some more fun, toe-tapping songs by Pharrell Williams and a good range of voice talent, including Kristen Wiig as Gru's partner/love interest.
The ending had me wondering if there's any more scope for a planned third movie. Personally, I think this franchise should be left alone now, although it's no surprise that the minions got their own spin-off film. 
6/10