Deep Cover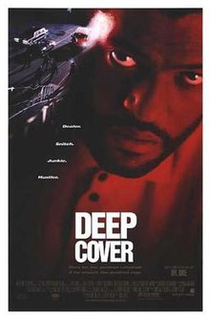 DEEP COVER (18)
D: Bill Duke
New Line/Image Organization (Henry Bean & Pierre David)
W: Henry Bean & Michael Tolkin
Laurence Fishburne (Russell Stevens / John Hull), Jeff Goldblum (David Jason), Charles Martin Smith (Agent Gerald Carver), Victoria Dilliard (Betty McCutcheon)
Laurence Fishburne & Jeff Goldblum deliver fantastic performances in this thriller about an undercover cop who infiltrates the Los Angeles drug-smuggling hierarchy only to discover the police and the cartels are equally as corrupt as each other.
Directed by Bill Duke, probably best known as 'Mac' in Predator, who proves his mettle behind the camera with this deft thriller.
Comparisons could be made to Martin Scorsese's gangster movie The Departed, although this predates it by 14 years.
7/10