The Decline of Western Civilization (1 & 2)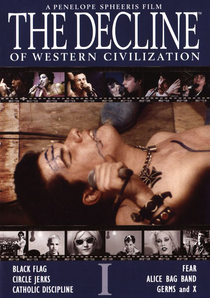 THE DECLINE OF WESTERN CIVILIZATION (18)
Nu-Image (Penelope Spheeris)
DP: Steve Conant, Bill Muerer & Penelope Spheeris
Ed: Charles Mullin, Peter Wiehl & David Colburn
A decade before Wayne's World hit cinemas, director Penelope Spheeris presented this documentary studying the punk rock movement towards the end of the 1970's. 
There's a few quirky moments and some interesting interviews with frontmen of some underground bands, but general entertainment value is wholly dependent on whether or not you care for the genre of music.
6/10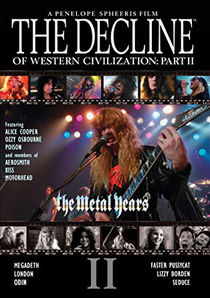 THE DECLINE OF WESTERN CIVILIZATION PART II: THE METAL YEARS (18)
New Line (Jonathan Dayton & Valerie Faris)
DP: Jeff Zimmerman & Julio Macat
Penelope Spheeris' follow-up to her 1981 documentary is probably a far more accessible film, as it focuses on a genre of music which was far more popular than the punk rock movement which had all but died out at the beginning of the 1980's.
The film includes some frank interviews with some of the bigger stars of the genre, including Lemmy (lead singer of Mötorhead), Alice Cooper, Ozzy Osbourne & Steven Tyler and Joe Perry (of Aerosmith).
The questions and answers are mostly relative to the price of fame, as well as the excess which comes with it, undercut with some humour and plenty of industrial-strength language.
A must-watch for anyone who was a fan of the music, or anyone who lived through the period.
7/10