Death Wish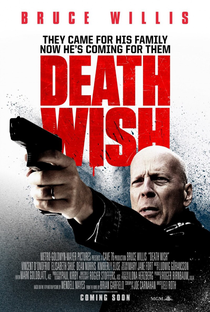 DEATH WISH (18)
D: Eli Roth
MGM/Annapurna/Cave 76 (Roger Birnbaum)
USA 🇺🇸 2018
107 mins
Action/Thriller
W: Joe Carnahan [based on the novel by Brian Garfield & the 1974 screenplay by Wendell Mayes]
DP: Rogier Stoffiers
Ed: Mark Goldblatt
Mus: Ludwig Goränsson
Bruce Willis (Dr. Paul Kersey), Vincent D'Onofrio (Frank Kersey), Dean Norris (Det. Kevin Raines), Kimberley Elise (Det. Leonore Jackson), Elisabeth Shue (Lucy Rose Kersey), Camila Morrone (Jordan Kersey)
A remake of the 1974 film, with added violence and Bruce Willis, ridiculously unconvincing as a doctor, who turns vigilante following an attack on his family which leaves his wife dead and teenage daughter in a coma.
Despite being an okay time-killer, this doesn't bring anything new to the ideas explored in the 1974 film (and its many sequels) and just feels like a cash-in on similarly themed movies like Taken and John Wick.
Willis did one for the money, Elisabeth Shue & Vincent D'Onofrio deserve much better and John Norris plays his exact same character from TV's Breaking Bad.
Unremarkable to say the very least.
4/10