Death On The Nile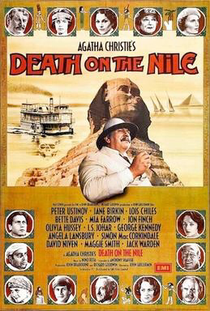 DEATH ON THE NILE (PG)
D: John Guillermin
Paramount/EMI/Mersham (John Brabourne & Richard B. Goodwin)
UK 🇬🇧 1978
140 mins
Mystery/Thriller
W: Anthony Shaffer [based on the novel by Agatha Christie]
DP: Jack Cardiff
Ed: Malcolm Cooke
Mus: Nino Rota
PD: Peter Murton
Cos: Anthony Powell
Peter Ustinov (Hercule Poirot), Jane Birkin (Louise Bourget), Lois Chiles (Linnet Ridgeway Doyle), Bette Davis (Marie Van Schuyler), Mia Farrow (Jacqueline de Bellefort), George Kennedy (Andrew Pennington), Angela Lansbury (Salome Otterbourne), Simon MacCorkindale (Simon Doyle), David Niven (Col. Race), Maggie Smith (Miss Bowers)
Master sleuth Hercule Poirot returns with a huge ensemble cast for this adaptation of Agatha Christie's classic mystery novel, set upon a steamboat winding its way through Egypt, carrying a mixed bag of upper class characters, one of whom getting murdered upon the journey.
The plot is very much the same as Murder On The Orient Express, only substituting the mode of transportation. 
The performances are all fine, especially Ustinov, who makes a very fine Poirot, but the execution of the material is far too conservative and the pacing is very slow, beginning with a scene at a rural country house which could easily have been left out of the film without affecting the narrative, which ultimately serves up a rather underwhelming conclusion to this whodunit.
From a production standpoint, it's probably as good as it could have been done for 1978, with good costumes, cinematography and period set design, but in fairness, much better adaptations on the whole have been produced for a television mini-series audience.
6/10