Dazed & Confused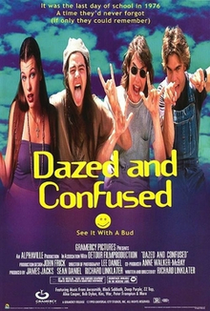 DAZED & CONFUSED (15)
Universal/Gramercy/Alphaville (James Jacks, Sean Daniel & Richard Linklater)             
W: Richard Linklater
Jason London (Randall 'Pink' Floyd), Wiley Wiggins (Mitch Kramer), Matthew McConaughey (David Wooderson), Milla Jovovich (Michelle Burroughs), Rory Cochrane (Ron Slater), Adam Goldberg (Mike Newhouse), Anthony Rapp (Tony Olsen), Ben Affleck (Fred O'Bannion)
American Graffiti for the Generation X, following a group of high school students who celebrate the first night of the summer holidays, mostly by victimising younger students.
A huge cult hit which launched director-screenwriter Richard Linklater's career, with a brilliant soundtrack of classic 70's songs. Well worth a watch, especially for fans of Linklater's other films.
The film also yields very early roles for many young actors who would go on to have flourishing careers, including Matthew McConaughey and Ben Affleck.
7/10