Days of Thunder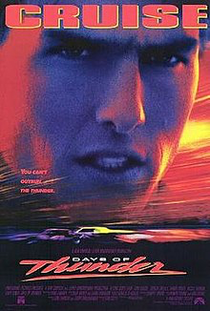 DAYS OF THUNDER (15)
Paramount (Jerry Bruckheimer & Don Simpson)
Ed: Billy Weber & Chris Lebenzon
Tom Cruise (Cole Trickle), Robert Duvall (Harry Hogge), Nicole Kidman (Dr. Claire Lewis), Randy Quaid (Tim Laland), Michael Rooker (Rowdy Burns), Cary Elwes (Russ Wheeler)
A young stock car racer challenges the champion driver. 
Everything else about the film is lifted from Top Gun with jets replaced with cars.
Despite having a huge star in the lead, it was deemed a box office failure, although it did generate a top-selling song ("Show Me Heaven" by Maria McKee) and introduced the world to a relationship between Cruise & Kidman which lasted over a decade.
5/10