Dangerous Liaisons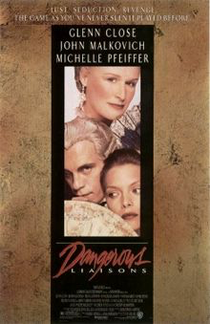 DANGEROUS LIAISONS (15)
Warner Bros./Lorimar/NFH (Norma Heyman, Hank Moonjean & Christopher Hampton)
W: Christopher Hampton [based on the novel 'Les Liaisons Dangereuses' by Choderlos de Laclos]
PD: Stuart Craig
Cos: James Acheson
Glenn Close (Marquise de Merteuil), John Malkovich (Vicomte de Valmont), Michelle Pfeiffer (Madame de Tourvel), Swoosie Kurtz (Madame de Volanges), Keanu Reeves (Chevalier Danceny), Mildred Natwick (Madame de Rosemonde), Uma Thurman (Cecile de Volanges)
Glenn Close & John Malkovich play repugnant monsters of French aristocracy, who challenge each other to sexual conquests during the revolution. 
The Marquise de Merteuil (Close) challenges her former lover Vicomte de Valmont (Malkovich) to seduce virgins merely for her own entertainment, but she receives her comeuppance when a genuine romance blossoms between Valmont & Madame de Tourval (Pfeiffer).
Glenn Close, John Malkovich and Michelle Pfeiffer are absolutely perfect in this period drama, which is meticulously filmed and designed. Keanu Reeves is miscast, but that won't be of much surprise to anyone.
8/10