A Day At The Races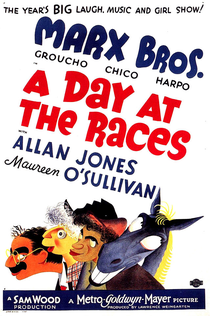 A DAY AT THE RACES (U)
D: Sam Wood
MGM (Sam Wood)
US 🇺🇸 1937
109 mins
Comedy
W: Robert Pirosh, George Seaton, George Oppenheimer, George S. Kaufman & Carey Wilson
DP: Joseph Ruttenberg
Ed: Frank E. Hull
Mus: Walter Jurmann, Bronislau Kaper & Franz Waxman
Groucho Marx (Dr. Hugo Z. Hackenbush), Chico Marx (Tony), Harpo Marx (Stuffy), Allan Jones (Gil Stewart), Maureen O'Sullivan (Judy Standish), Margaret Dumont (Emily Upjohn)
More slapstick shenanigans with the Marx Brothers, in their 7th feature length motion picture from Metro-Goldwyn-Mayer.
This encounter sees a horse veterinarian (Groucho) masquerade as a legitimate doctor so he can fool a wealthy socialite into saving a sanitarium from falling into the hands of a racecourse owner who plans to turn the building into a casino.
The wisecracking dialogue is an absolute riot, delivered with the usual chutzpah by the comedy troupe and their supporting cast (except, of course, for Harpo, whose character never speaks).
The film culminates in a big race, utilising stock footage of an actual horse racing event, and considering the film's age, this blends quite well.
There are a few musical interludes that I personally could have done without, but it's understandable that they were a staple of film at the time of production.
Very good fun, but it's no Duck Soup.
7/10