The Curious Case of Benjamin Button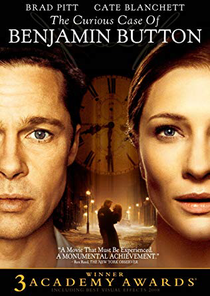 THE CURIOUS CASE OF BENJAMIN BUTTON (12)
D: David Fincher
Warner Bros./Paramount (Kathleen Kennedy, Frank Marshall & Ceán Chaffin)
W: Eric Roth [based on the short story by F. Scott Fitzgerald]
DP: Claudio Miranda
Ed: Kirk Baxter & Angus Wall
Mus: Alexandre Desplat
PD: Donald Graham Burt
Cos: Jacqueline West
Brad Pitt (Benjamin Button) Cate Blanchett (Daisy Fuller), Taraji P. Henson (Queenie), Julia Ormond (Caroline Fuller), Jason Flemyng (Thomas Button), Tilda Swinton (Elizabeth Abbott)
A child in New Orleans, Louisiana is born as an old man and becomes younger as he ages.
Similarities between this and Forrest Gump are understandable since both movies are scripted by Eric Roth. Like Forrest Gump, The Curious Case Of Benjamin Button sees it's title character passing through moments of 20th century history whilst his love interest's life is spiralling in the other direction. Aside from principal characters becoming old (except in Benjamin Button's case) and dying, these are the only similarities. 
There is no explanation to Benjamin Button's ailment but there doesn't have to be. It's a beautiful and poetic fable about life. All the performances are well acted, although Brad Pitt is buoyed by a realistic de-aging process. The photography and period design are immaculate, but the best thing about the movie are the special effects and makeup design which sees the principal characters age and grow younger. The only factor that stops this getting a higher score rating is due to its exorbitant length.
8/10