The Country Girl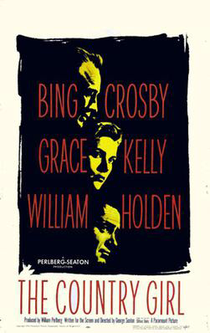 THE COUNTRY GIRL (PG)
D: George Seaton
Paramount (William Perlberg)
US 🇺🇸 1954
104 mins
Drama/Musical
W: George Seaton [based on the play by Clifford Odets]
DP: John F. Warren
Ed: Ellsworth Hoagland
Mus: Victor Young
Bing Crosby (Frank Elgin), Grace Kelly (Georgie Elgin), William Holden (Bernie Dodd), Anthony Ross (Philip Cook), Gene Reynolds (Larry)
Grace Kelly may have won the 1954 Best Actress Oscar for her performance in this, but as far as I'm concerned, Judy Garland was robbed (for A Star Is Born).
Based on the play by Clifford Odets, The Country Girl focuses on fading star of the stage, Frank Elgin, who has succumbed to alcoholism when he auditions for an old acquaintance's new play.
The director hires the troubled star and a stormy relationship develops between him and Frank's wife, who he believes is the root cause of the actor's problems.
The play that this was based on may have been hot property at the time, but the subject matter has dated considerably poorly. The film is held together by the good performances, but they're really not Oscar worthy.
6/10