"The Cornetto Trilogy"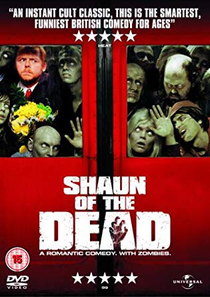 SHAUN OF THE DEAD (15)
Universal/Working Title (Nira Park)
UK/US/France 🇬🇧 🇺🇸 🇫🇷 2004
W: Simon Pegg & Edgar Wright
Mus: Daniel Mudford & Pete Woodhead
Simon Pegg (Shaun), Nick Frost (Ed), Kate Ashfield (Liz), Lucy Davis (Dianne), Dylan Moran (David), Penelope Wilson (Barbara), Bill Nighy (Philip), Jessica Stevenson (Yvonne)
Good spirited parody of zombie movies with a vein of quintessential British humour which managed to be appreciated on both sides of the Atlantic.
Loveable slacker shop assistant Shaun hatches a plan to survive the zombie apocalypse, merely involving taking refuge with his friends and family in a North London pub.
Introducing cinema audiences to a fresh comedy partnership of Simon Pegg & Nick Frost, the comedy was the first in a series of films which later became known as the "Cornetto Trilogy" (with Hot Fuzz & The World's End).
It's a simple story for fanboys of the genre, but just so happened to reach out to a wider audience and became immensily well-received and enjoyed.
7/10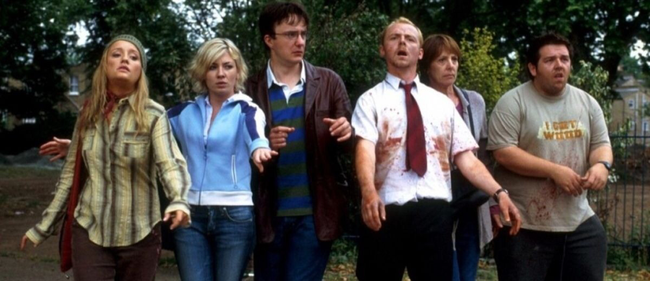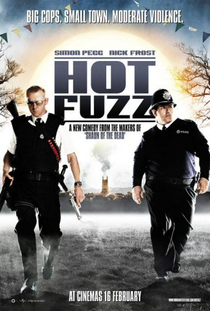 HOT FUZZ (15)
Universal/Studio Canal/Working Title/Big Talk (Nira Park, Tim Bevan & Eric Fellner)
W: Edgar Wright & Simon Pegg
DP: Jess Hall
PD: Marcus Rowland
Simon Pegg (Sgt. Nicholas Angel), Nick Frost (PC Danny Butterman), Jim Broadbent (Insp. Frank Butterman), Timothy Dalton (Simon Skinner), Olivia Colman (PC Doris Thatcher), Paddy Considine (DS Andy Wainwright)
Since this film is the second of the so-called "Cornetto Trilogy" (following Shaun Of The Dead (qv)) it's easier to get drawn into it, despite it being complete and utter nonsense.
Perfectionist police officer Nick Angel is exiled to an idyllic, lackadaisical West Country village where virtually no crimes happen aside from rogue swans terrorising front gardens and a small problem of underage drinking. The rest of the small village's police force mock Angel's arrival, except for Nick Frost's overzealous officer who looks up to him as a big city hero, obsessed with generic cops and robbers movies (Bad Boys, etc), he expects the real duties of an English bobby to include the action-packed thrills of their Hollywood counterparts.
The two officers soon discover that the town and its people aren't nearly as peaceful as they've previously been led to believe, culminating in a high octane, frenetically edited shootout at the local supermarket.
The film lacks satire and doesn't send up other genres and movies the way Shaun Of The Dead does, but is still reasonably entertaining, despite the fact that it's absolutely ridiculous.
6/10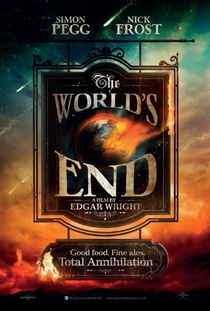 THE WORLD'S END (15)
Universal/Relativity/Working Title (Nira Park, Tim Bevan & Eric Fellner)
W: Edgar Wright & Simon Pegg
Simon Pegg (Gary), Nick Frost (Andy), Martin Freeman (Oliver), Eddie Marsan (Peter), Paddy Considine (Steven), Rosamund Pike (Sam)
Following Shaun Of The Dead and Hot Fuzz comes this third part of the 'Cornetto Trilogy' and it's by far the weakest of the three.
While the previous two films were silly without being stupid, The World's End is just stupid. 
The story concerns a group of five friends who haven't seen each other since their school days in the early 90's. They hook up to participate in an infamous pub crawl of 12 pubs in their old home town and half way through the evening discover that their old neighbourhood is populated with robotic humanoids.
In a nutshell, it's Invasion Of The Body Snatchers wedged into a pub crawl.  There are a couple of amusing moments but none of the jokes are 'laugh out loud funny' and the most original one in the entire film is that Nick Frost is playing the mature, responsible character whilst Simon Pegg is the raucous, immature, irresponsible one.
Ironically, the film was released at a time when all the pubs in Britain are facing extinction (which was perhaps intended), but there seems no real point to the film and it's a huge disappointment compared to the previous films from the same acting/writing duo.
5/10