The Cooler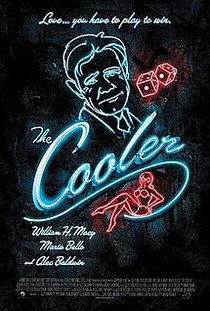 THE COOLER (18)
Lionsgate (Michael Pierce & Sean Furst)
USA 🇺🇸 2002 (released 2003)
W: Frank Hannah & Wayne Kramer
Mus: Mark Isham
William H. Macy (Bernie Lootz), Alec Baldwin (Shelly Kaplow), Maria Bello(Natalie Belisario), Shawn Hatosy (Mikey), Ron Livingston (Larry Sokolov), Paul Sorvino (Buddy Stafford)
The Cooler is a very impressive indie piece which didn't get an audience that it potentially deserved under it's limited theatrical release.
William H. Macy plays Bernie Lootz, a perpetually luckless casino employee whose job it is to bring bad luck to high rollers. Things change though when he falls in love with a new waitress, much to the disappointment of stern casino boss Shelly Kaplow.
William H. Macy gives a good leading performance here, but the standouts are Maria Bello as the love interest and Alec Baldwin, who earned an Oscar nomination for Best Supporting Actor.
Mark Isham's excellent jazzy score also deserves a special mention.
7/10