The Company of Wolves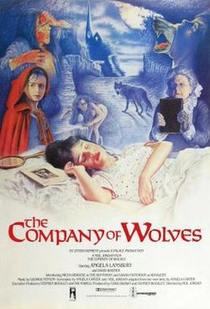 THE COMPANY OF WOLVES (18)
D: Neil Jordan
ITC/Palace (Chris Brown & Stephen Woolley)     
W: Angela Carter & Neil Jordan [based on the books by Angela Carter]
DP: Bryan Loftus
PD: Anton Furst
Cos: Elizabeth Waller
Angela Lansbury (Granny), David Warner (Father), Sarah Patterson (Rosaleen), Graham Crowden (Old Priest), Micha Bergese (Huntsman), Stephen Rea (Young Groom)
A fairytale for adults with a horror spin on Little Red Riding Hood, using some of the best werewolf effects brought to screen (personally I think these are the second best only to An American Werewolf In London).
It's a very well told horror-fantasy, atmospherically directed with sumptuous production values. Only the ending disappoints.
Still, it's well worth 95 minutes of anyone's time, especially fans of horror and gothic fantasy.
8/10