The Commitments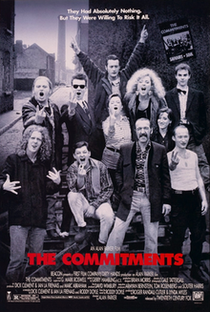 THE COMMITMENTS (15)
20th Century Fox/Beacon/First Film/Dirty Hands/Sovereign (Roger Randall-Cutler & Lynda Miles)
Ireland/UK/USA 🇮🇪 🇬🇧 🇺🇸 1991
W: Ian LaFrenais, Dick Clement & Roddy Doyle [based on the novel by Roddy Doyle]     
Ed: Gerry Hambling
Robert Arkins (Jimmy Rabbitte), Michael Aherne (Steven Clifford), Angeline Ball (Imelda Quirke), Maria Doyle (Natalie Murphy), Dave Finnegan (Mick Wallace), Bronagh Gallagher (Bernie McGloughlin), Felim Gormley (Dean Fay), Glen Hansard (Outspan Foster), Dick Massey (Billy Mooney), Johnny Murphy (Joey Fagan), Kenneth McClusky (Derek Scully), Andrew Strong (Declan Cuffe)
Based on the novel by Roddy Doyle which made up the first part of his 'Barrytown' trilogy, the story follows a group of Dublin youths who form a soul band, bringing a modern twist to their favourite R&B songs of the 1960's.
A great movie with an even greater soundtrack. All the ensemble cast do a great job as the members of the band and the script features some good humour.
One of the best films of 1991.
8/10