The Color Purple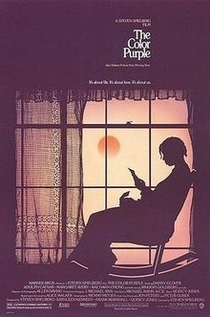 THE COLOR PURPLE (15)
D: Steven Spielberg
Warner Bros./Amblin (Steven Spielberg, Kathleen Kennedy, Frank Marshall, Quincy Jones, Jon Peter & Peter Gubers)
W: Menno Meyjes [based on the novel by Alice Walker]
DP: Allen Davieu
Mus: Quincy Jones
PD: J. Michael Riva
Cos: Aggie Guarard-Rodgers
Whoopi Goldberg (Celie), Danny Glover (Albert), Margaret Avery (Shug Avery), Oprah Winfrey (Sofia), Willard Pugh (Harpo), Akosua Busia (Nettie), Adolph Caesar (Old Mister), Rae Dawn Chong (Squeak)
Steven Spielberg's first 'mature' film, adapted from the Pulitzer Prize winning novel by Alice Walker tells the story of a Southern black family during the early part of the 1900's, as they face struggles from both society and within themselves.
All the performances are fantastic and director Spielberg presents the story incredibly well.
The film was nominated for 11 Oscars and went away empty-handed, making it the biggest 'Oscar loser' of all time. It's unfortunate, it really deserved something.
A very well made piece of work.
8/10