The Cider House Rules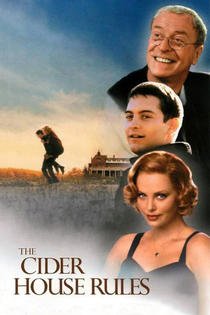 THE CIDER HOUSE RULES (15)
Miramax/FilmColomy (Richard N. Gladstein)
W: John Irving [based on his novel]
Tobey Maguire (Homer Wells), Charlize Theron (Candy Kendall), Delroy Lindo (Mr. Rose), Paul Rudd (Wally Worthington), Michael Caine (Dr. Wilbur Larch), Jane Alexander (Nurse Edna), Kathy Baker (Nurse Angela), Erykah Badu (Rose Rose), Kieran Culkin (Buster), Kate Nelligan (Olive Worthington)
Rubbish title, decent film.
Set in New England during the 1940's, Homer Wells, a young man raised in an orphanage grows up to be a doctor, the apprentice of Dr. Wilbur Larch, an ether addict who runs the orphanage and performs clandestine abortions.
Their relationship becomes strained when the older doctor wants his protege to take over the practice from him, but their clashes of opinions over undertaking abortions sends Wells out into the world where he finds work at an orchard.
This bittersweet melodrama captures some simply amazing acting performances, especially from Michael Caine, with a final act which feels like a blow to the solar plexus. 
Based on the novel by John Irving, who also wrote and won an Oscar for his screenplay.
8/10