The Cat in the Hat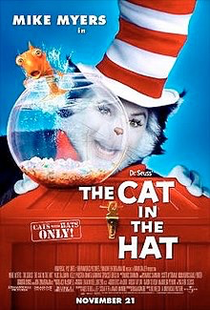 THE CAT IN THE HAT (PG)
Dreamworks/Universal/Imagine (Brian Grazer)
W: Alec Berg, David Mandel & Jeff Schaffer [based on the book by Dr. Seuss]
Mike Myers (The Cat In The Hat), Dakota Fanning (Sally Walden), Spencer Breslin (Conrad Walden), Kelly Preston (Joan Walden), Alec Baldwin (Larry Quinn)
Since The Grinch (qv) was such a popular film in 2000, it was obviously clear that another of Dr. Seuss' more famous children's book characters would get the big screen treatment. Unfortunately, the result is a huge mess.
Clearly aimed at children under 8, the cartoonish slapstick and chaotic madness of the plot shouldn't disappoint them, but the majority of the jokes are more for an adult or teenage audience, who won't be entertained by the irritating central performance of Mike Myers (beneath cat makeup). The juvenile performances are equally irritating and the adult stars all look embarrassed to be involved in this.
Perhaps it could have been improved upon with a better script and director (whose previous experience was as a production designer).
At 82 minutes, this is still too long. This cat needs to be put down.
3/10