The Caine Mutiny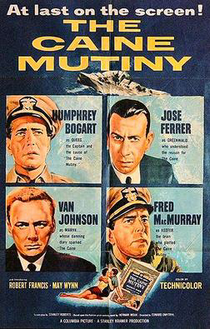 THE CAINE MUTINY (U)
D: Edward Dmytryk
Columbia (Stanley Kramer)
USA 🇺🇸 1954
124 mins
Drama/War
W: Stanley Roberts [based on the novel by Herman Wouk]
DP: Franz Planet
Ed: William A. Lyon & Henry Batista
Mus: Max Steiner
Humphrey Bogart (Lt. Cmmdr. Philip Francis Queeg), Jose Farrer (Lt. Barney Greenwald), Fred MacMurray (Lt. Tom Keefer), Van Johnson (Lt. Steve Maryk), Tom Tully (Lt. Cmmdr. William De Vreiss)
1954's second highest grossing film in the United States was this naval drama set abroad the USS Caine, a minesweeper heading from San Francisco to Pearl Harbor, whose skipper is relieved of his duties by the incredibly strict Lt. Commander Queeg, who rules with an iron fist and quickly becomes despised by the men.
A mutiny follows, as well as a court martial for those responsible, who claim that Queeg was paranoid and incompetent in his leadership.
Though the ship board scenes and the ensuing courtroom drama make for riveting entertainment, the film is bogged down with a lot of unnecessary scenes set ashore, including a romance subplot that is completely superfluous to the main plot.
The cast are all excellent, particularly Humphrey Bogart, Fred MacMurray and Tom Tully. 
8/10