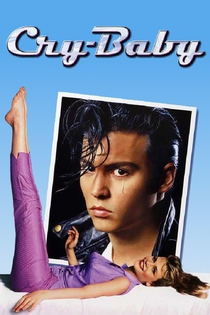 CRY-BABY (12)
Universal/Imagine (Rachel Talalay)
Johnny Depp (Wade 'Cry-Baby' Walker), Amy Locane (Allison Vernon-Williams), Polly Bergen (Mrs. Vernon-Williams), Ricki Lake (Pepper Walker), Traci Lords (Wanda Woodward)
John Waters' answer to Grease!
A teenage delinquent falls in love with an upper class girl in 1960's Baltimore.     
A guilty pleasure movie which helped propel Johnny Depp's career after a stint on a television show. Fans of the Grease movies, high school musicals and other John Waters flicks will most certainly enjoy it, as should most Johnny Depp fans.
Kitsch, for sure, but enjoyable and good enough to inspire a musical stage play of the same name.
6/10