Cruel Intentions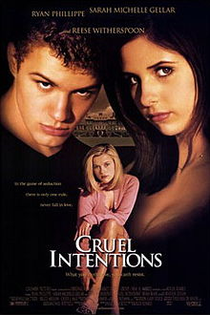 CRUEL INTENTIONS (15)
Columbia/Newmarket (Neal H. Moritz)
W: Roger Kumble [based on the novel 'Les Liaisons Dangereuses' by Choderlos de Laclos]
Sarah Michelle Gellar (Kathryn Merteuil), Ryan Phillippe (Sebastian Valmont), Reese Witherspoon (Annette Hargrove), Selma Blair (Cecile Caldwell), Louise Fletcher (Helen Rosemond)
A teenage version of Dangerous Liaisons (qv), set at an American high school where two of the rich, cool kids make a bet over a young girl's virginity.     
It is quite adequately done, with a couple of good performances and a rather infamous scene involving a lesbian kiss, the ending is a complete anti-climax however, and really lets the entire film down.
Two truly terrible sequels followed.
5/10