Crocodile Dundee (film series)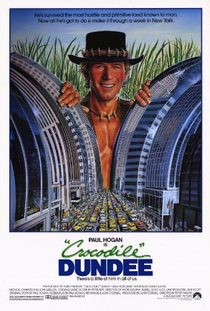 CROCODILE DUNDEE (15)
Paramount/Rimfire (John Cornell)
W: Paul Hogan, Ken Shadie & John Cornell
Mus: Peter Best
Paul Hogan (Michael J. 'Crocodile' Dundee), Linda Kozlowski (Sue Charlton), John Meillon (Wally Reilly), Mark Blum (Richard Mason), Michael Lombard (Sam Charlton), David Gulpilil (Neville Bell), Irving Metzman (Doorman), Reginald Veljohnson (Gus)
A New York journalist travels to the Australian outback to write an article on a crocodile hunter and takes him back to the big city to close the story, his first ever trip out of the bush.
A Tarzan-esque spin on a fish out of water tale, with several hilarious moments and a sweet romance blossoming between the two main characters.  It doesn't have great originality, but it's very well scripted with some very memorable dialogue and the finale is one of the best endings to any film of 1980's, winning the hearts of even the most stone-hearted audience.
The film seemed to be coincide with a general public obsession with everything Australian, going on to become one of the biggest box office hits of 1986.
8/10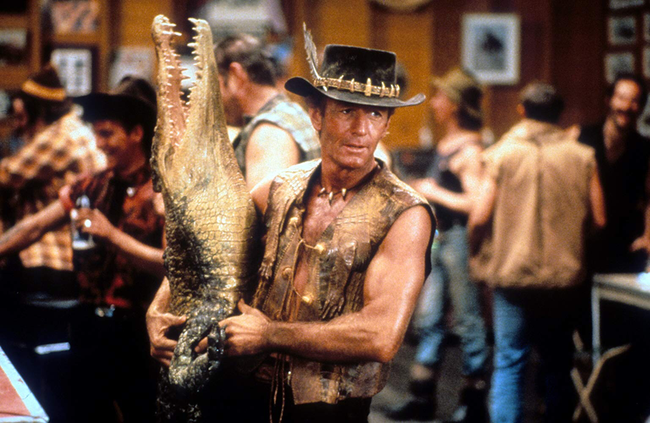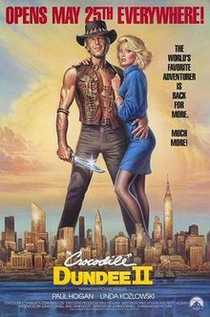 CROCODILE DUNDEE II (PG)
Paramount/Rimfire (John Cornell & Jane Scott)
W: Paul Hogan & Brett Hogan
Paul Hogan (Michael J. 'Crocodile' Dundee), Linda Kozlowski (Sue Charlton), John Meillon (Walter Reilly), Hechter Ubarry (Luis Rico), Juan Fernandez (Miguel), Charles Dutton (Leroy Brown)
A cash-grab sequel which sheds most of the fish out of water formula in favour of a corny kidnapping story, with journalist Sue Charlton held to ransom by a drug dealer over incriminating photographs taken by her former colleague & partner.
The humour doesn't match that from the first movie, but as far as sequels go this certainly isn't terrible and is quite fun, especially if you're a fan of the first movie and the title character. 
Aimed at a much younger audience for it's Tarzan-like hero, and though it is incredibly silly, it does provoke a smile or two, even if you have to remove your brain to really appreciate it. 
6/10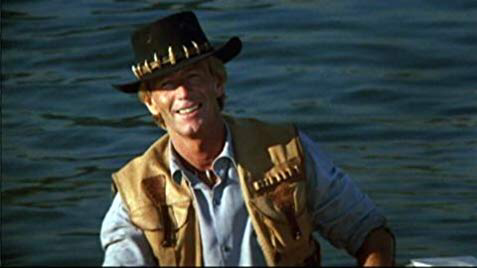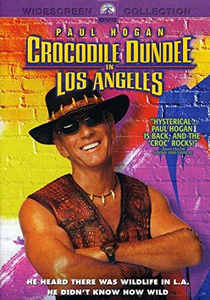 CROCODILE DUNDEE IN LOS ANGELES (PG)
Paramount/Silver Lion/Bangalow (Lance Hool & Paul Hogan)
W: Matthew Berry & Eric Abrams [based on characters created by Paul Hogan, Ken Shadie & John Cornell]
Paul Hogan (Michael J. 'Crocodile' Dundee), Linda Kozlowski (Sue Charlton), Jere Burns (Arnan Rothman), Jonathan Banks (Milos Drubnik), Alec Wilson (Jacko), Mike Tyson (himself)
The term 'flogging a dead horse' comes very much to mind. 13 years after the previous film and 15 after the original, crocodile hunter Mick Dundee is now living in Los Angeles with his journalist girlfriend, Sue Charlton, and their young son. While Sue investigates a shady film producer, Mick finds work as a film extra, but when that doesn't work out as planned he becomes an animal trainer.
The character made famous in the 1980's is reduced to a cross between Doctor Dolittle and Tarzan. There's very little entertainment and even less humour for even the most ardent or nostalgic of fans. 
4/10