Creepshow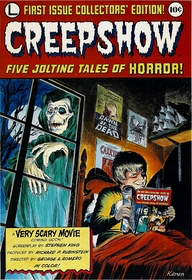 CREEPSHOW (18)
United/Laurel (Richard P. Rubenstein)
Ed: George A. Romero, Pasquale Buba, Paul Hirsch & Michael Spolan
Carrie Nye (Sylvia Grantham), Viveca Lindfors (Bedelia Grantham), Ed Harris (Hank Blaine), Stephen King (Jordy Verrill), Leslie Nielsen (Richard Vickers), Ted Danson (Harry Wentworth), Hal Holbrook (Henry Northup), Adrienne Barbeau (Wilma Northup), E.G. Marshall (Upson Pratt)
A compendium of grizzly tales (titled "Father's Day", "The Lonesome Death of Jordy Verrill", "Something To Tide You Over", "The Crate" and "They're Creeping Up On You"), all of which were written by horror maestro Stephen King and presented in a comic-book style.
Some of the stories are better than others, with the first one being below average and culminating in a rather grotesque one. The weakest, by far, of the stories is the one featuring King himself as a hillbilly who discovers an asteroid in his back yard, but the three segments which follow make the entire anthology worth a watch.
Not an easy film to review as a whole, since the sums of all its parts are so inconsistent.
5/10