Creed / Creed II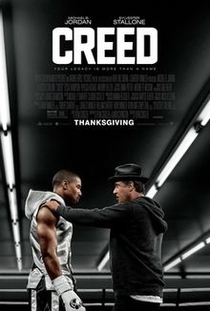 CREED (12)
Warner Bros/MGM/New Line (Robert Chartoff, Irwin Winkler, Charles Winkler, William Chartoff, David Winkler, Kevin King-Templeton & Sylvester Stallone)
W: Ryan Coogler & Aaron Covington [based on characters created by Sylvester Stallone]
Ed: Michael P. Shawver & Claudia Castello
Michael B. Jordan (Adonis Johnson), Sylvester Stallone (Rocky Balboa), Tessa Thompson (Bianca), Phylicia Rashad (Mary Anne Creed), Tony Bellew ('Pretty' Ricky Conlan)
40 years on from the original Rocky and with original star Sylvester Stallone far too old to be stepping inside the ring, the mantle has passed to a new contender, Adonis Johnson, the illegitimate child of Rocky's original nemesis turned trainer and friend, Apollo Creed.
Michael B. Jordan is impressive as the young underdog, who is out to make a name for himself in the ring in his own right, rather than ride on the coattails of his father's legendary success, and with Rocky coaching the young up-and-comer, they find themselves facing a championship bout with a Liverpudlian brawler who sees the match as a chance to beat a legendary name.
As a standalone film, Creed is rather unspectacular, but when compared with some of the other Rocky sequels, it's one of the more serious and far better ones. Sylvester Stallone earned many plaudits, including an Oscar nomination for Supporting Actor, for reprising the role which made him a household name, and there were some who called it a sympathy vote. Personally, I think he deserved the accolades, considering his career has been littered with some poor acting performances, it's refreshing to see him return to a character which fits him like a glove.
Whether Creed has enough legs to continue a franchise in its own right remains to be seen, but this isn't a bad film for fans of boxing films or the original Rocky series.
7/10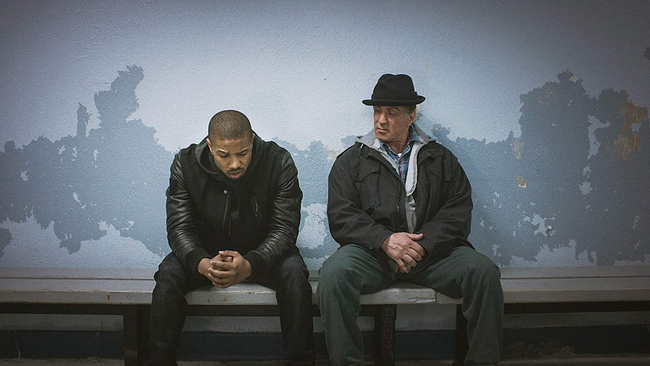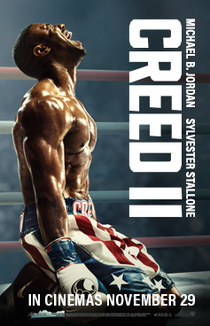 CREED II (12)
D: Steven Caple, Jr.
MGM/New Line (Sylvester Stallone, Kevin King-Templeton, Charles Winkler, William Chartoff, David Winkler & Irwin Winkler)
USA 🇺🇸 2018
130 mins
Sports/Drama
W: Sylvester Stallone & Juel Taylor [based on characters created by Sylvester Stallone]
DP: Kramer Morgenthau
Ed: Dana E. Glauberman, Saira Haider & Paul Harb
Mus: Ludwig Göransson
Michael B. Jordan (Adonis Creed), Sylvester Stallone (Rocky Balboa), Tessa Thompson (Bianca Taylor), Dolph Lundgren (Ivan Drago), Florian Munteanu (Viktor Drago), Phylicia Rashad (Mary Anne Creed)
When the first Creed movie was released in 2015, I enjoyed it on its own merits, but I also wondered whether the Rocky franchise had ran out of steam and whether or not a retread for a new generation had enough legs. Creed II proves that there's still life in the series, not only financially for the studio's bottom line but also thematically & entertainment purposes.
If the first Creed movie could be deemed a rejig of the first Rocky movie, it seemed from the trailers and marketing as though this sequel was a retread of Rocky IV, revisiting Ivan Drago and his son as the antagonists albeit without the Cold War backdrop (which was  way too cheesy in the 1985 movie).
The blueprints are pretty much the same here. Protagonist boxer has the heavyweight title, antagonist boxer wants it, first fight ends badly, training montages ensue, protagonist makes amends, all padded out with domestic issues, ethical disputes and a little dash of romance, and though the running time does exceed the 120 minute mark it does not feel like a 130 minute movie, all due to good pacing, solid performances and a well-delivered theme about fatherhood which runs through the narrative. Michael B. Jordan, Sylvester Stallone and Tessa Thompson are all excellent, but special mention has to go to Dolph Lundgren, who I never considered a good actor, but he is exceptionally good in this, as a fallen star forcefully influencing his son to follow in his footsteps and succeed where he failed.
Even though it's a film about boxing, it's not a film about boxing, and as a sequel I think it surpasses the original for quality, so much so, that it makes Rocky IV a better film.
A must watch for fans of the Rocky movies and first Creed film, and even worth catching if you want to see a thoroughly entertaining sports drama.
7/10