Crazy Heart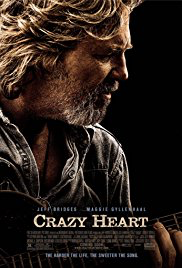 CRAZY HEART (15)
Fox Searchlight/Informant Media/Butchers Run (Robert Duvall, Rob Carliner, Judy Cairo & T-Bone Burnett)
Mus: Stephen Bruton & T-Bone Burnett
Jeff Bridges (Bad Blake), Maggie Gyllenhaal (Jean Craddock), Robert Duvall (Wayne Kramer), Colin Farrell (Tommy Sweet)
Jeff Bridges won a long-awaited and well deserved Oscar for his performance as Bad Blake, an alcoholic country music singer who receives much needed salvation from a single mother journalist.
The film has many similarities to 1983's Tender Mercies, which also saw Robert Duvall win a Best Actor Oscar as a washed up Country & Western singer. 
They're both good movies, but the ultimate enjoyment factor heavily depends on whether or not you're a fan of that particular genre of music.
Jeff Bridges really does act his heart out in this, and his singing isn't too shabby either.
7/10