Crash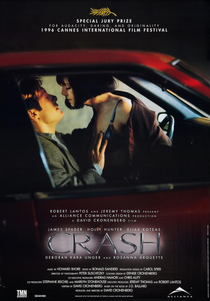 CRASH (18)
Columbia Tristar/Alliance (David Cronenberg)
W: David Cronenberg [based on the novel by J.G. Ballard]
James Spader (James Ballard), Holly Hunter (Dr. Helen Remington), Elias Koteas (Vaughan), Deborah Unger (Catherine Ballard), Rosanna Arquette (Gabrielle)
A repulsively unlikeable yet compelling drama about a group of people who are sexually aroused by car crashes, a psychiatric term also referred to as paraphilia.
Director/writer David Cronenberg does a good job adapting a novel which would always prove difficult for a big screen transition, the biggest change of which being the relocation of the story from London to the other side of the Atlantic.
It's an impossible film to enjoy watching, but it has a raw form of power about fetishism and eroticism which hadn't dared been tackled before and is very tastefully made considering the subject matter.
6/10