Corpse Bride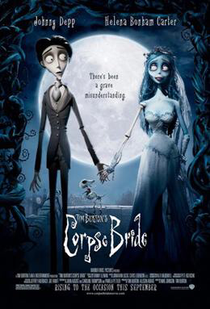 CORPSE BRIDE (aka TIM BURTON'S CORPSE BRIDE) (PG)
D: Mike Johnson & Tim Burton
Warner Bros/Laika/Patalex II (Tim Burton & Allison Abbate)
UK/US 🇺🇸 🇬🇧 2005
77 mins
Animated
W: John August, Caroline Thompson & Pamela Pettler
DP: Pete Kozachik
Ed: Chris Lebenzon & Jonathan Lucas
Mus: Danny Elfman
voices of: Johnny Depp (Victor Van Dort), Helena Bonham-Carter (Emily, the Corpse Bride), Emily Watson (Victoria Everglot), Tracey Ullman (Nell Van Dort), Paul Whitehouse (William Van Dort)
Tim Burton brings his usual macabre style to this animated fantasy, which is very much in the same vein as The Nightmare Before Christmas.
Johnny Depp voices the character of Victor Van Dort, a shy groom who, when practicing his marriage vows, inadvertently weds a corpse and is whisked away to land of the dead, which he tries to escape and get back to his true betrothed.
Burton's style does tend to be a little too gothic for young children and it isn't quite adult material either, so this is a film which falls between two stools. Despite this, the stop-motion animation is brilliantly executed, with an interesting colour palate of both black and white & colour scenes, and it ticks along nicely at a mere 77 minutes.
6/10