Conan (1982-1984 / 2011)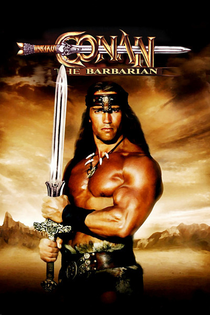 CONAN THE BARBARIAN (18)
Dino de Laurentiis (Buzz Feitshans & Raffaela de Laurentiis)
W: John Milius & Oliver Stone [based on characters created by Robert E. Howard]
Mus: Basil Poledouris
Arnold Schwarzenegger (Conan), James Earl Jones (Thulsa Doom), Max Von Sydow (King Osric), Sandahl Bergman (Valeria), Mako (Akiro)
A blood & thunder sword and sorcery adventure with Arnie flexing his muscles as the comic-book warrior, seeking the serpent king who murdered his parents, fighting savages and witches in his quest for revenge.
It's actually not too bad. A standout amongst the rest of the pack from a genre which saw very many films released during the early 1980's. It's incredibly violent, fully warranting an 18-age certificate, with some good makeup and special effects. Basil Poledouris' thumping, heroic score also deserves a special mention. 
6/10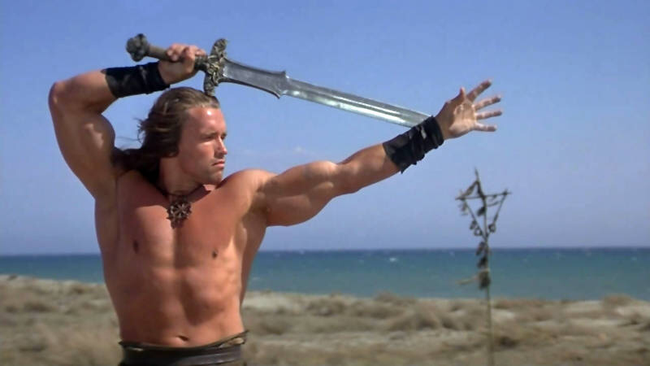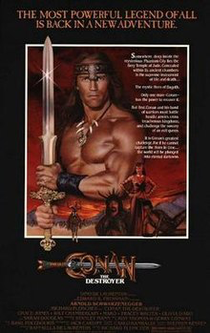 CONAN THE DESTROYER (15)
Dino de Laurentiis (Raffaela de Laurentiis)
W: Stanley Mann [based on characters created by Robert E. Howard]
Arnold Schwarzenegger (Conan), Grace Jones (Zula), Wilt Chamberlain (Bombaata), Mako (Akiro), Tracey Walter (Malak), Sarah Douglas (Queen Taramis), Olivia d'Abo (Princess Jehnna)
Weaker sequel to the above...
An evil queen offers to reincarnate Conan's lost love if he agrees to go on a quest for her.
It's a sequel which is much less blood-thirsty than the first film with a more comic book storyline, clearly aimed at a younger audience who won't become nauseous from the gore that featured in the original film.
The pacing here is a little better, but the acting performances are atrocious, especially from the supporting cast.
4/10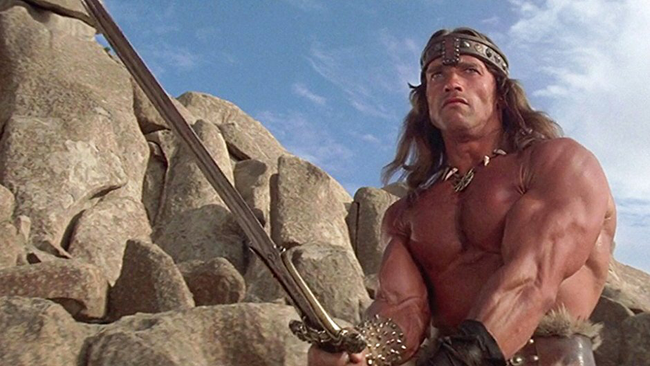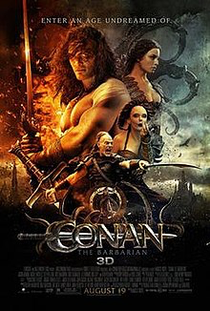 CONAN THE BARBARIAN (12)
Lionsgate/Nu Image/Millennium (Avi Lerner, Boaz Davidson, Fredrik Malmberg, Joe Gatta, George Furla, John Baldecchi & Les Weldon)
W: Thomas Dean Donnelly, Joshua Oppenheimer & Sean Hood [based on characters created by Robert E. Howard]
Jason Momoa (Conan), Rachel Nichols (Tamara), Stephen Lang (Khalar Zym), Rose McGowan (Marique), Saïd Taghmaoui (Ela-Shan), Leo Howard (young Conan), Morgan Freeman (narrator)
Remake of the above with more sword and less sorcery. There's a huge missed opportunity here with the lack of originality from music video director Marcus Nispel, who goes down the easy route of making this a simple tale of revenge, turning in a primitive knock off of Braveheart rather than a primordial comic book adventure.
The casting is also weak. Jason Momoa, who played beast of a warrior Khal Drogo in TV's Game Of Thrones, turns up in this film with his bronzed Hawaiian tan and does very little else.
Moderate entertainment of the brainless kind, but this is more like Conan the Surfer Dude.
4/10