Cocoon / Cocoon: The Return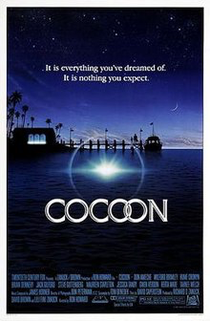 COCOON (PG)
20th Century Fox (Richard D. Zanuck, David Brown & Lili Fini Zanuck)
Ed: Michael Hill & Daniel Hanley
Don Ameche (Art Selwyn), Wilford Brimley (Ben Luckett), Hume Cronyn (Joe Finley), Brian Dennehy (Walter), Jack Gilford (Jack Lefkowitz), Steve Guttenberg (Jack Bonner), Maureen Stapleton (Mary Luckett), Jessica Tandy (Alma Finley), Gwen Verdon (Bess McCarthy), Tahnee Welch (Kitty)
An alien species which never age descend upon a Florida town with a heavy elderly population, members of whom feel rejuvenated after swimming in a pool holding alien pods.
For the most part, the film carries the perfect balance between comedy and sentimentality, before leaning towards the latter in the closing moments. The visual effects and performances cannot be faulted however, especially Don Ameche as a septuagenarian who discovers a new lease of life, even teaching a couple of the young kids how to breakdance.
Schmaltzy in parts, it may be, but it's still carried off quite well. An unnecessary sequel followed.

7/10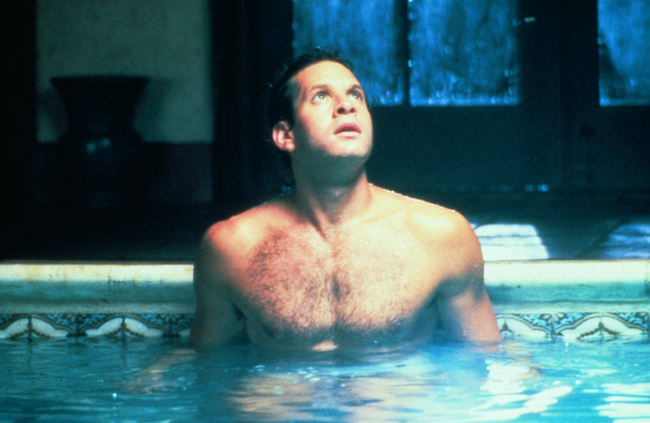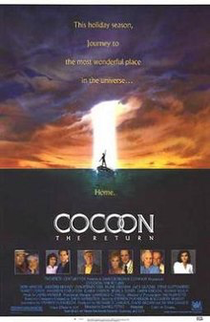 COCOON: THE RETURN (PG)
20th Century Fox (Richard D. Zanuck, David Brown & Lili Fini Zanuck)
Don Ameche (Art Selwyn), Wilford Brimley (Ben Luckett), Courtney Cox (Sara), Hume Cronyn (Joe Finley), Jack Gilford (Bernie Lefkowitz), Steve Guttenberg (Jack Bonner), Barret Oliver (David), Maureen Stapleton (Mary Luckett), Jessica Tandy (Alma Finley), Gwen Verdon (Bess McCarthy-Selwyn), Tahnee Welch (Kitty)
A needless, unnecessary sequel, in which original cast members return to their Florida residence to rescue alien pods which have been claimed by an oceanographic laboratory. The main conflict the majority of them face is having to explain to their families how they survived being 'lost at sea'.
This sequel leans far more towards a sentimental angle than its predecessor and is mostly boring. A cash-in on the success of the first film.
4/10