Clue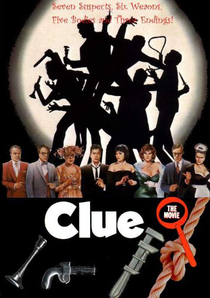 CLUE (15)
Paramount/Guber-Peters (Debra Hill)
Tim Curry (Wandsworth), Eileen Brennan (Mrs. Peacock), Madeline Kahn (Mrs. White), Christopher Lloyd (Prof. Plum), Martin Mull (Col. Mustard); Michael McKean (Mr. Green), Lesley Ann Warren (Ms. Scarlet)
An attempt to bring the popular board game (known as Cluedo in the UK) to the big screen. 
It's all a bit of a mess with comedy which veers from satire to farce and is ultimately a load of nonsense which follows virtually the same plot as Agatha Christie's And Then There Were None.
In keeping up with the mystery of the board game, the film had three alternative endings, all of which would vary from screening to screening in different cinemas during its original theatrical run, which I personally think is an excellent twist. Unfortunately, that magic is now lost on home video/DVD releases and subsequent television screenings which show all three endings sequentially and relegate the film into being just another run-of-the-mill spoof.
6/10