Cloverfield / 10 Cloverfield Lane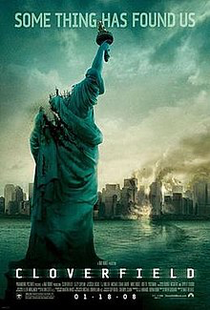 CLOVERFIELD (15)
Paramount/Bad Robot (J.J. Abrams & Bryan Burk)
Ed: Kevin Stitt
Lizzy Caplan (Marlena Diamond), Jessica Lucas (Lily Ford), T.J. Miller (Hudson Platt) Michael Stahl-David (Robert Hawkins), Mike Vogel (Jason Hawkins)
A Godzilla-like creature attacks New York City and the event is presented via home video style footage, following an opening act set at a leaving party where nothing of particular consequence really happens... until the moment the city comes under attack.
A landmark film in regards to its experimental concept, visually it's amazing as well as quite uncomfortable & nauseating to watch, though this style creates an atmosphere which sucks you in and make you feel as if you're experiencing the disastrous occurences for real. It's as frustrating as it is thrilling, however, with no explanation to the creatures origin... The only reference comes from the minimal dialogue ''It's a terrible thing" and "It's winning"! A few scenes require you to reach for the pause or rewind buttons so you can try and fathom what it is you did or didn't see, and some of the dialogue is inaudible, but that doesn't matter too much as it's not a conversation-driven film. It is however, the finest science-fiction horror movie released from the United States in many years. The film received heavy criticism in some circles for exploiting the horrors of 9/11, which I think is particularly unfair.
7/10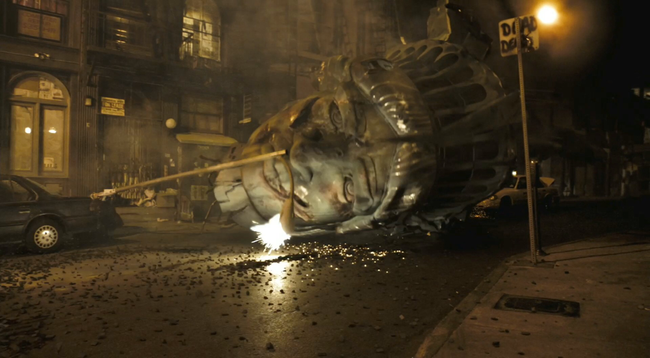 10 CLOVERFIELD LANE (15)
Paramount/Bad Robot (Ethan Darby & Lindsey Weber)
W: Josh Campbell, Matt Stuecken & Damien Chazelle
Mary Elizabeth Winstead (Michelle), John Goodman (Howard Stambler), John Gallagher, Jr. (Emmett Dewitt)
Aside from being produced by J.J. Abrams' Bad Robot production company, 10 Cloverfield Lane has nothing to do with the 2007 film Cloverfield (qv), which utilised a handheld camera style to present a hostile alien takeover in New York City.
This is a completely different film altogether, though it clearly cherry-picked its inspirations from several other sources, yet maintains some originality of its own.
Following a car accident, a young woman (Mary Elizabeth Winstead) wakes up in an underground bunker where she believes she and another young man have been abducted by a psychotic survivalist (John Goodman).  His reasons for holding her, are because he believes that the outside world has been compromised by either nuclear fallout or foreign attack.
The story plays its hand very close to its chest, so you don't know whose story to believe, while Goodman's performance treads a thin line between pathetically needy and mentally fractious. 
The plot twists unfold as the film goes on, and though it does have some ridiculous moments, it will still have you biting your fingernails on the edge of your seat.
It was probably unfortunate timing that the film was released so soon after the similarly-plotted Room (2015), which is a more serious treatment of an abduction-themed thriller.
7/10