Close Encounters of the Third Kind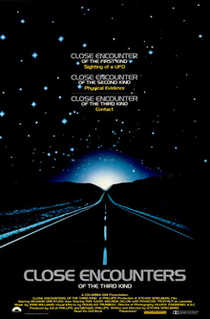 CLOSE ENCOUNTERS OF THE THIRD KIND (PG)
D: Steven Spielberg
Columbia (Julia Phillips & Michael Phillips)
DP: Vilmos Zsigmond
Ed: Michael Kahn
Mus: John Williams
PD: Joe Alves
Richard Dreyfuss (Roy Neary), Francois Truffaut (Claude Lacombe), Teri Garr (Ronnie Neary), Melinda Dillon (Jillian Guiler), Cary Guffey (Barry Guiler), Bob Balaban (Laughlin)
A classic science fiction film from Steven Spielberg.  
A series of UFO sightings and government cover-ups effect residents of Indiana differently. A working-class family man ostracises his wife and kids in his descent into craziness to uncover the truth, whilst a single mother is desperate to locate her young son, who appears to have been abducted by an alien species.
Enjoyment is heavily dependant on which version of the film you watch.  The director's cut is probably more accessable for everyone, but the original theatrical version has the longer build-up and much higher tension. The final 30 minutes are simply amazing, with brilliant special effects and John Williams' iconically memorable music.
9/10