Cliffhanger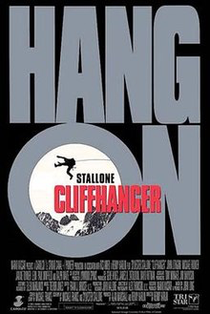 CLIFFHANGER (15)
Carolco/Canal/Pioneer (Alan Marshall & Renny Harlin)
W: Michael France & Sylvester Stallone     
Sylvester Stallone (Gabriel Walker), John Lithgow (Eric Qualen), Michael Rooker (Hal Tucker), Janine Turner (Jessie Deighan), Rex Linn (Travers), Caroline Goodall (Kristal), Leon (Kynette), Craig Fairbrass (Delmar), Ralph Waite (Frank)
Die Hard on a mountain. That's pretty much the entire story.
After a friend's girlfriend falls to her death during a rescue operation, mountain rescue ace Gabe Walker (Stallone) retires. He returns to the area a few years later when gangsters are trying to find loot after their plane performs crash-landing atop the snowy peaks.
It's all nonsense, with far too many scenes containing some truly terrible dialogue and John Lithgow delivering one of his poorest performances as an English(??) villain. Despite its many faults, which include crap acting, awful dialogue and an idiotic premise, it's still incredibly enjoyable, simply because of its high octane action scenes, edgy stuntwork and fantastic modelwork visual effects. Just make sure you remove brain before watching.
6/10