Clerks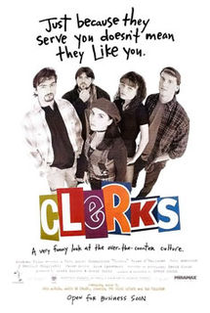 CLERKS (18)
Artificial Eye/View Askew (Kevin Smith & Scott Mosier)
W: Kevin Smith
Ed: Kevin Smith & Scott Mosier
Brian O'Halloran (Dante Hicks), Jeff Anderson (Randall Graves), Marilyn Ghigliotti (Veronica), Lisa Spoonauer (Caitlin Bree), Jason Mewes (Jay), Kevin Smith (Silent Bob)
Kevin Smith's debut feature is über-low-budget, filmed in an actual convenience store where Smith once plied his trade and the story is rather simple, but incredibly funny and memorable.
A placid convenience store clerk and his carefree friend both work on a regular Saturday afternoon and discuss topics ranging from girlfriends & sex to the Star Wars trilogy, whilst serving a strange array of customers causing a day full of mishaps and near chaos.
Despite having very little story to run on, Smith's down-to-earth, realistic dialogue makes this one of the great comedies of the 1990's, a must watch for Generation X-ers and a great example of filmmaking on a shoestring budget (the film cost $27,000).
8/10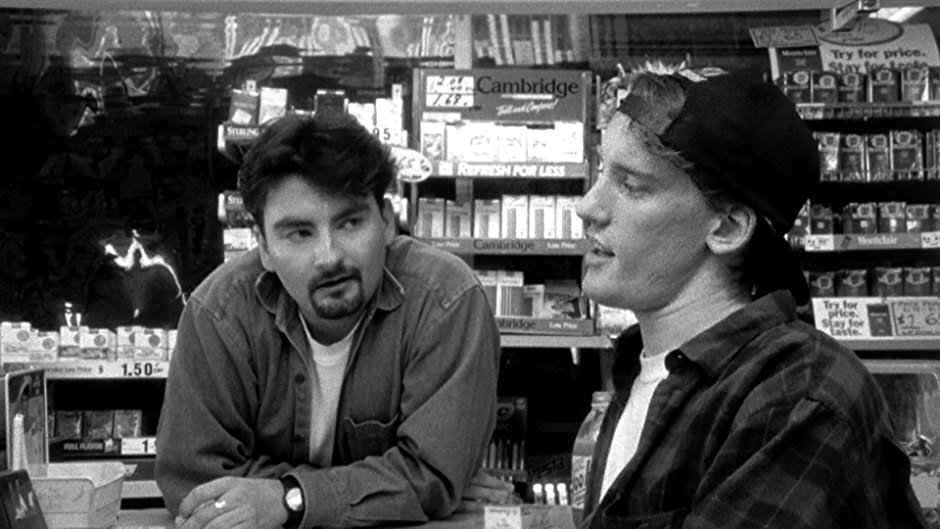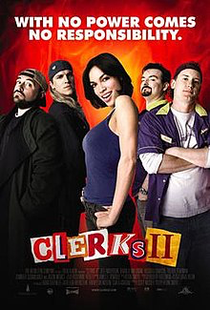 CLERKS II (15)
The Weinstein Company/View Askew (Scott Mosier)
Brian O'Halloran (Dante Hicks), Jeff Anderson (Randall Graves), Rosario Dawson (Becky), Trevor Fehrman (Elias), Jennifer Schwalbach (Emma), Jason Mewes (Jay), Kevin Smith (Silent Bob)
12 years after the events in the first movie and Dante & Randall are still unsatisfied with their prospective careers, this time working in a fast food outlet after the convenience store from the first film is burned down.
The conversations still revolve mostly around relationships, sex and movie favourites, but the dialogue seems more forced and less forthright from the first movie and a love story is stuffed in to make this more of a romcom than a Generation X rant about modern society (akin to the first film).
It does have some funny moments, but also feels like Kevin Smith is running low on ideas and therefore has to revisit his roots.
6/10