Clear & Present Danger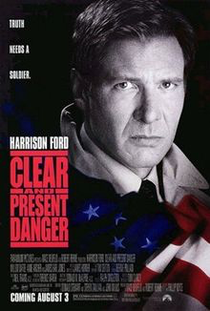 CLEAR & PRESENT DANGER (12)
Paramount (Mace Neufeld & Robert Rehme)
W: Donald Stewart, Steven Zaillian & John Milius [based on the novel by Tom Clancy]
Harrison Ford (Jack Ryan), Willem Dafoe (John Clark), Anne Archer (Dr. Caroline Ryan), Henry Czerny (Bob Ritter), Joaquim da Almeida (Col. Felix Cortez), Harris Yulin (James Cutter), Donald Moffat (President Bennett), Miguel Sandoval (Ernesto Escobedo), James Earl Jones (Jim Greer)
The third Jack Ryan thriller from Tom Clancy's novels to reach the silver screen, following 1990's The Hunt For Red October and 1992's Patriot Games, the latter also starring Harrison Ford in the central role.
It's quite slowly paced and dialogue heavy until a handful of kinetic action scenes crank the volume up, the plot  concerning CIA agent Jack Ryan and his investigation of drug cartels in Colombia tied up with corruption within the US government.
The film will probably appeal more to fans of the authors work rather than mainstream movie fans or those simply wanting a good thriller. 
Though there are moments of tension, action and suspense, the film is mostly bogged down with a lot of tedium.
6/10