City Slickers (1 & 2)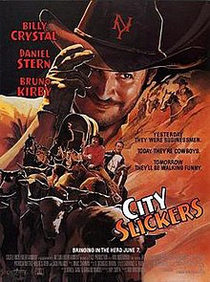 CITY SLICKERS (12)
Castle Rock/Nelson (Irby Smith)
W: Lowell Ganz & Babaloo Mandel
DP: Dean Semler
Billy Crystal (Mitch Robbins), Daniel Stern (Phil Berquist), Bruno Kirby (Ed Furillo), Patricia Wettig (Barbara Robbins), Helen Slater (Bonnie Rayburn), Jack Palance (Curly Washburn), Noble Willingham (Clay Stone), Tracey Walter (Cookie), Josh Mostel (Barry Shalowitz), David Paymer (Ira Shalowitz)
Three friends on the brink of a mid-life crisis go on a trip where they drive cattle just like the cowboys of the old west.
On the trip, they discover the meaning of friendship, and of life, before taking responsibility for their own lives and of the cattle drive itself after the head cowboy does and the two other professional cowboys in charge go nuts.
This is most definitely a 'guy's movies', all about male bonding and the simple pleasures that drive them through life.  There's not much else in the way of plot, but the screenplay has several witty one-liners and references to classic westerns, itself classed as more of a 'genre for guys'.  Billy Crystal, Daniel Stern & Bruno Kirby are all great as the three buddies trying to find themselves again, but Jack Palance steals the show as an amalgamation of classic Western hard men.
Keep an eye out for a young Jake Gyllenhaal as Billy Crystal's son.
8/10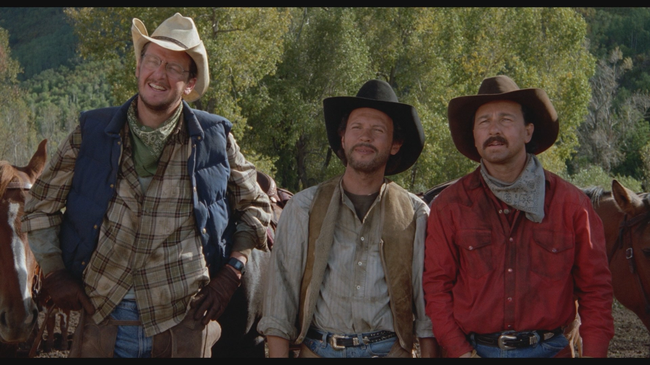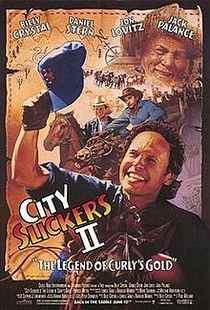 CITY SLICKERS II: THE LEGEND OF CURLY'S GOLD (12)
Columbia Tristar/Castle Rock/Face (Billy Crystal)
W: Billy Crystal, Lowell Ganz & Babaloo Mandel
DP: Adrian Biddle & Craig Haagensen
Ed: William Anderson & Armen Minasian
PD: Stephen J. Lineweaver
Billy Crystal (Mitch Robbins), Daniel Stern (Phil Berquist), Jon Lovitz (Glen Robbins), Patricia Wettig (Barbara Robbins), Jack Palance (Duke Washburn), Bill McKinney (Matt), Pruitt Taylor Vince (Bud)
A rather pointless and silly sequel, which gets rid of the three friends searching for themselves storyline in favour of three friends searching for hidden treasure. It still maintains the male-bonding theme from the original film, but to a far lesser degree as it seems happy to pat itself on the back for having even more references to the classic Westerns of yesteryear (as well as nods & winks to The Godfather for no reason whatsoever).
Bruno Kirby is replaced with the incredibly irritating Jon Lovitz and Jack Palance reprises his role as Curly's twin (with exactly the same characteristics).
The movie ends on cliffhanger as if to insinuate there'd be a City Slickers III. Thankfully, another sequel didn't materialise, despite this one being a mild success during its theatrical run.
4/10