Cinema Paradiso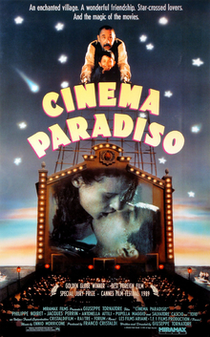 CINEMA PARADISO (NUEVO CINEMA PARADISO) (PG)
D: Giuseppe Tornatore
Ariane/TFI/RAI-TRE/Forum (Franco Cristaldi)
Italy/France 🇮🇹 🇫🇷 1988 (released 1989)
W: Giuseppe Tornatore
Mus: Ennio Morricone & Andrea Morricone
Jacques Perrin (Salvatore di Vita), Philippe Noiret (Alfredo), Salvatore Cascio (Salvatore as a child), Marco Leonardi (Salvatore as a teenager)
The Guardian newspaper voted this their favourite film of the 1980's and it's quite understandable why. It's a sweet, sentimental nostalgia fable about a young boy who grows up helping the cinema projectionist at his small villages cinema and the friendship they form from the late 1930's onwards.
At two & a half hours, this is a long slog of a foreign language film to get through, but it ticks by quite nicely due to a good screenplay, great performances and a beautiful music score by Ennio Morricone.
A love letter to classic film and a must watch for film buffs.
8/10