Cinderella (Disney)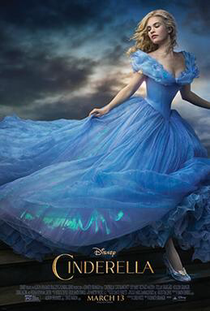 CINDERELLA (U)
D: Kenneth Branagh
Disney/Beagle Pug (Simon Kinberg, Allison Shearmur & David Barron)
US/UK 🇺🇸 🇬🇧 2015
106 mins
Fantasy
W: Chris Weitz [based on the 1950 screenplay & the fairy tale "Cendrillon" by Charles Perrault]
DP: Haris Zambarloukos
Ed: Martin Walsh
Mus: Patrick Doyle
PD: Dante Ferretti
Cos: Sandy Powell
Lily James (Cinderella), Cate Blanchett (Lady Tremaine), Richard Madden (Prince Kit), Helena Bonham-Carter (Fairy Godmother), Stellan Skarsgård (Grand Duke)
I'm sure I've seen the 1950 animated version of Cinderella, but it was when I was so young I can barely remember it. However, due to various adaptations, reiterations, stage plays and pantomimes, I'm more than familiar with the story and think it's elegantly timeless, passing from generation to generation seamlessly.
This 2015 live action version from Disney is traced off their 1950's animated version, and it works quite well in this medium. 
Cinderella, mistreated by her stepmother & stepsisters after her father's death, is given a chance to attend a royal ball by her Fairy Godmother, where she enchants a Prince.
In typical Disney style, helped by a big production budget, the film is aesthetically pleasing with its grandiose sets and opulent costumes, however, the CGI visual effects seem a little unfinished.
All the performances are fine, especially Lily James in the lead.
Personally, I think this is one of the better live action updates from the Hollywood superpower, but it did kickstart them remaking their entire back catalogue as live action films, because you can never have too much money.
6/10