Cinderella Man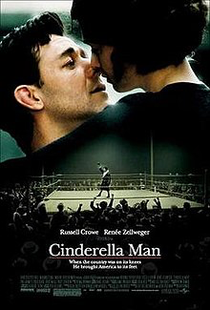 CINDERELLA MAN (12)
Miramax/Universal/Imagine (Brian Grazer, Ron Howard & Penny Marshall)
W: Cliff Hollingsworth & Akiva Goldsman
DP: Salvatore Totino
Ed: Mike Hill & Dan Hanley
PD: Wynn Thomas
Russell Crowe (James J. Braddock), Renee Zellweger (Mae Braddock), Paul Giamatti (Joe Gould), Craig Bierko (Max Baer), Paddy Considine (Mike Wilson), Bruce McGill (Jimmy Johnston)
A picturesque biopic of James J. Braddock, a boxer during the Great Depression who staged a comeback to win the world title in a genuine rags-to-riches tale.
Russell Crowe almost becomes the fabled boxer in a sublime performance from the actor, whilst Paul Giamatti also steals the occasional scene as the fight promoter.  Renee Zellweger however, is unfortunately miscast as Braddock's wife.
It could have done with having 30 minutes or so trimmed off, especially the more sappy moments inside the Braddock home, but it's a well-filmed biographical film which presents the struggles of the period faithfully.
7/10