Chinatown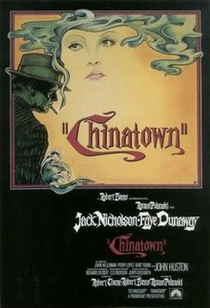 CHINATOWN (18)
D: Roman Polanski
Paramount/Freedom Service/Long Road (Robert Evans)
W: Robert Towne
DP: John A. Alonzo
Ed: Sam O'Steen
Mus: Jerry Goldsmith
PD: Richard Sylbert
Cos: Anthea Sylbert
Jack Nicholson (J. J. Gittes), Faye Dunaway (Evelyn Mulwray), John Huston (Noah Cross), Perry Lopez (Escobar), John Hillerman (Yelburton), Darrell Zwerling (Hollis Mulwray), Diane Ladd (Ida Sessions), Roy Jenson (Mulvihill)
An absolute classic of 1970's cinema which updates film noir for a modern age.
Jack Nicholson gives one of his career best performances as Jake 'J. J.' Gittes, a private eye in 1930's Los Angeles who takes on a case he thinks is simple, but uncovers scandal and murder during his investigations, involving a corrupt politician with a sinister plan to monopolise the city's water supply.
The complex, labyrinthine plot leads Gittes down many cul-de-sacs and twists a wicked web with the unsympathetic characters he meets as he attempts to uncover the truth, before a downbeat but impossible-to-forget conclusion.
The film was nominated for the Best Picture Oscar, but lost out to The Godfather part II. Many may say that any other year, it would have claimed the prize. Personally, I think it should have.
10/10