Children of the Corn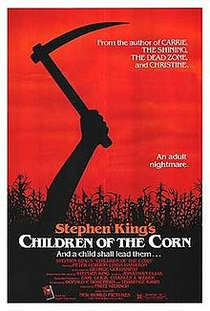 CHILDREN OF THE CORN (18)
New World/Angeles/Cinema Group (Donald P. Birchers & Terence Kirby)
W: George Goldsmith [based on the story by Stephen King]
Peter Horton (Burt Stanton), Linda Hamilton (Vicky Baxter), R.G. Armstrong (Diehl), John Franklin (Isaac Chroner)
A rather average horror from the pen of Stephen King about serial killer kids in a small farming community. It's quite creepy in places, particularly with its presentation of Isaac, leader of the children, but the rest of the cast aren't entirely convincing and the story just isn't demonstrative of the author's finest works.
The insidiously creepy music composed by Jonathan Elias probably saves the entire movie, aside from that it's rather formulaic and unremarkable.
Many sequels followed, too many in fact, and most were released direct-to-video.
5/10