Child's Play (film series)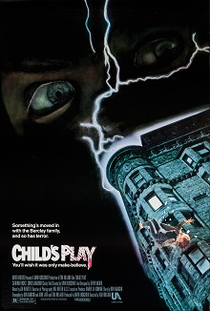 CHILD'S PLAY (18)
MGM/United Artists (David Kirschner)
W: Don Mancini, John Lafia & Tom Holland
Ed: Edward Warschilka & Roy E. Peterson
Alex Vincent (Andy Barclay), Catherine Hicks (Karen Barclay), Chris Sarandon (Det. Mike Norris), Brad Dourif (Charles Lee Ray / voice of Chucky)
First and best of the Chucky movies, about a serial killer who uses a voodoo-like ritual to transfer his soul into a 'Good Guy doll' to evade capture and arrest, he then goes on a murderous spree whilst possessing the body of the child's toy and tries to devise a scheme so he can return to a human form, which he plans to do by passing his soul into the body of his infant owner.
It's all very silly and quite predictable, but the creepy animatronic effects make this a worthwhile horror movie. 
The film proved quite profitable for MGM, who made huge returns at the box office, as well as selling the rights for subsequent sequels to Universal for a significant amount.
6/10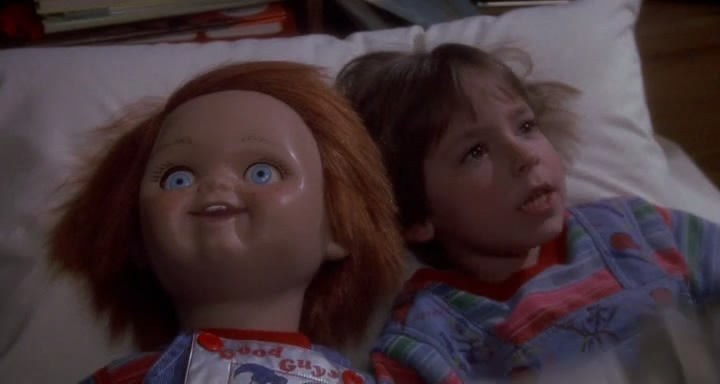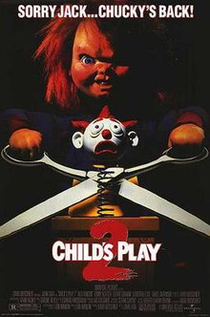 CHILD'S PLAY 2 (18)
Universal (David Kirschner)
Alex Vincent (Andy Barclay), Jenny Agutter (Joanne Simpson), Gerrit Graham (Phil Simpson), Christine Elise (Kyle), Grace Zabriskie (Grace Poole), Brad Dourif (voice of Chucky)
A rehash of the first movie with a different cast. 
Alex, the young boy from the first movie is now with foster parents and has the same psycho-possessed doll pursuing him so he can replace the boy's soul with his own.
The story is much weaker in this sequel with no focus at all on characterisation, it also lacks the family unity from the first film for a more depressing tact. Jenny Agutter does a decent job working with the small role that she's given, but the talented actress deserved better than this. 
A third film was eked out a year later.
4/10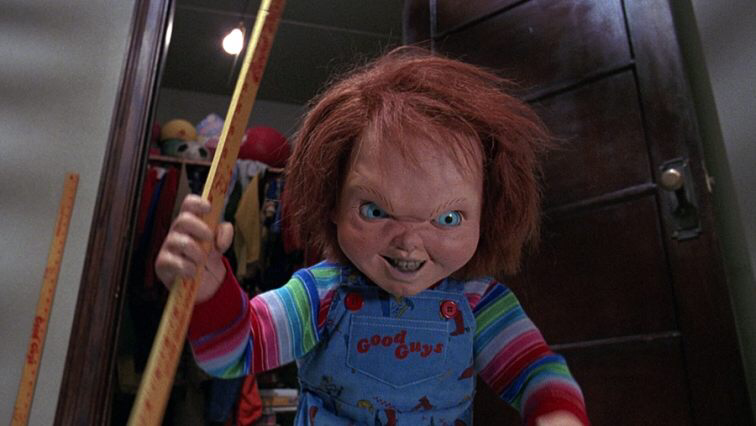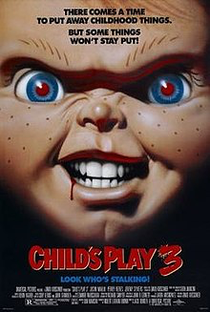 CHILD'S PLAY 3 (18)
Universal (Robert Latham Brown)
Ed: Scott Wallace & Edward Warschilka
Mus: Cory Lerios & John d'Andrea
Justin Whalin (Andy Barclay), Perrey Reeves (Kristin de Silva), Jeremy Sylvers (Ronald Tyler), Travis Fine (Col. Brett C. Shelton), Brad Dourif (voice of Chucky)
Though released just a year after Child's Play 2 (see above), the story takes place 8 years after the events in that film to take the story on a different path.
Andy, the infant victim of the first two films, is now in his teenage years and has joined a military academy, where he is continually pursued by Chucky, the serial killer possessed doll, who seems to keep getting reborn by those greedy toy manufacturers.
The idea was clearly running thin with this third movie, which was classed as a 'video nasty' in Britain and became a scapegoat following an unpleasant real-life murder which became worldwide news.
The infamy the film suffered doesn't change the fact that it's rather crap.
Another sequel, Bride of Chucky (qv), was released in 1998 and was a huge improvement on both this and the preceding film.
4/10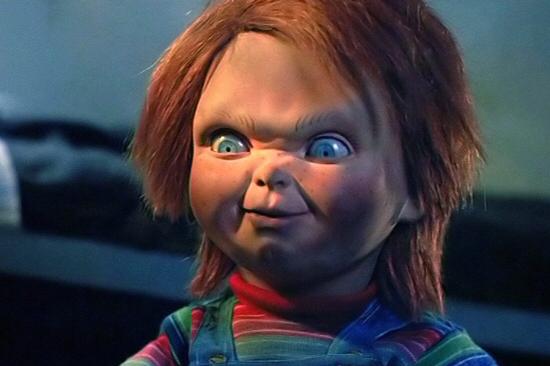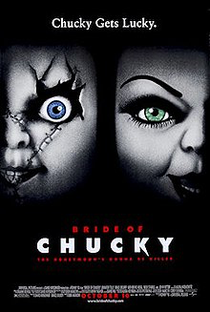 BRIDE OF CHUCKY (18)
Universal (David Kirschner & David Gilroy)
Ed: David Wu & Randolph Bricker
Brad Dourif (voice of Chucky), Jennifer Tilly (Tiffany), Katherine Heigl (Jade), Nick Stabile (Jessie)
Fourth film of the Child's Play series, in which the girlfriend of serial killer Charles Lee Ray (Chucky) resurrects his soul in the body of (another) good guy doll, then imports her soul into another so they can be together.
Despite its ridiculous story, it's decent fun, with an occasional nod to Bride Of Frankenstein.  It resurrected a dormant franchise after a great deal of controversy in the mid-90's, when the third movie was deemed a 'video nasty' in Britain and subsequently banned.
5/10