Chicago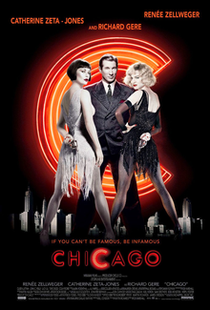 CHICAGO (12)
D: Rob Marshall
Buena Vista/Miramax (Martin Richards)
W: Bill Condon [based on the musical by Bob Fosse & Fred Ebb and the play by Maurine Dallas Watkins]
DP: Dion Beebe
Ed: Martin Walsh
Mus: Danny Elfman; John Kander & Fred Ebb     
PD: John Myhre
Cos: Colleen Atwood
Renée Zellweger (Roxie Hart), Richard Gere (Billy Flynn), Catherine Zeta-Jones (Velma Kelly), Queen Latifah (Matron 'Mama' Morton), John C. Reilly (Amos Hart), Christine Baranski (Mary Sunshine), Lucy Liu (Kitty), Taye Diggs (Bandleader)
A musical which rejuvenated the genre after it was practically obsolete for over two decades, even winning the Best Picture Oscar, the first musical to do so since 1968's Oliver!
Based on the Broadway musical by Bob Fosse, which itself was based on a play by Maurine Dallas Watkins, it presents a cynical side of fame and celebrity, with two singers enjoying notoriety after being arrested and tried for murder.
The style of the production is very faithful to the Bob Fosse style with jazzy sets and costumes, snappy editing and great cinematography. All That Jazz indeed.
8/10